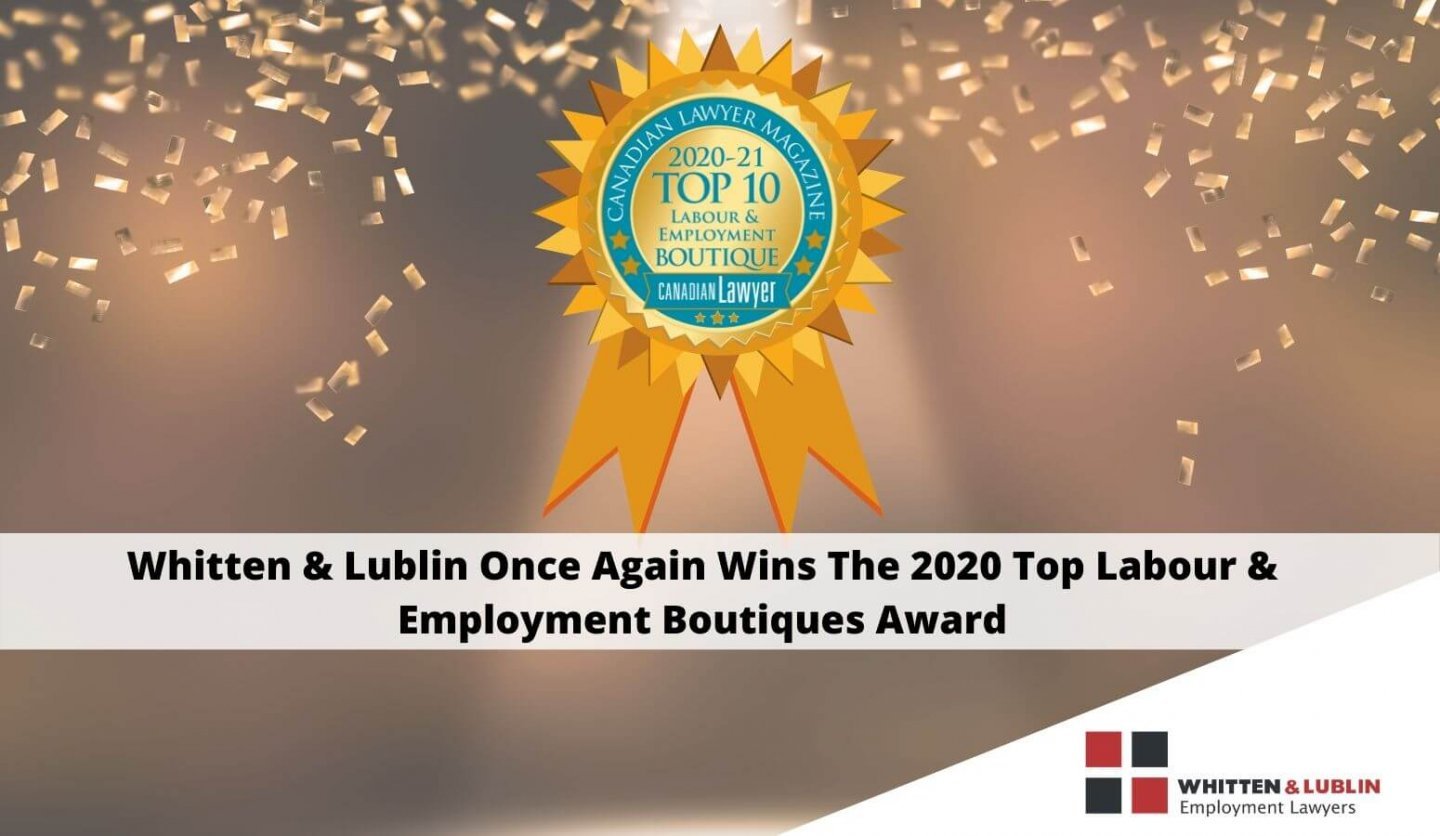 2020 Top 10 Labour & Employment Boutiques
Whitten & Lublin once again wins the 2020 Canadian Lawyer Top 10 Labour and Employment Boutiques Award!
Fast and gradual change are both driving the need for labour and employment expertise.
In 2019, lawyers from Canadian Lawyer's Top Labour and Employment boutiques saw rapidly changing government policy and more of the slow, decades-long evolution of the relationship between labour and management. The 2020 Canadian Lawyer Top 10 Labour and Employment Boutiques, listed alphabetically, are Barteaux Durnford, Filion Wakely Thorup Angeletti LLP, Hicks Morley Hamilton Stewart Storie LLP, Mathews Dinsdale & Clark LLP, Neuman Thompson, Rae Christen Jeffries LLP, Roper Greyell LLP, Sherrard Kuzz LLP, Turnpenney Milne LLP, and Whitten & Lublin.
Many of the changes in labour law can be traced to broader cultural changes, says Goldblatt Partners' Steven Barrett. There is a greater awareness of sexual harassment and racism, and cannabis and social media are both creating new issues in the workplace, he says. "None of these issues were as prevalent a few decades ago," he says.
Another trend impacting labour and employment law has been moving steadily for decades: the decline of organized labour. Greg McGinnis, a partner at Top Boutique Mathews Dinsdale & Clark LLP, says he's seen labour unions continue to struggle to organize in the private sector. With fewer unionized workplaces, they wield less political power and hold less cultural relevance, he says. "Equality issues, environmental issues — those are bigger issues for people now than traditional union collective bargaining . . ." says McGinnis. "I'm old enough to remember when the postal workers union could basically shut the country down by going on strike. And there's no way that — like, that just doesn't happen anymore."
In 2019, the federal government overhauled the labour code, with some changes in force since Sept. 2019 and others later in 2020. The changes include increasing personal leave of absences, increasing vacation and equal pay for temporary, part-time, seasonal and casual employees.
David Whitten, a partner at Top Boutique Whitten & Lublin, says it appears that each level of government in Canada is pandering to the public with labour and employment reforms. "Thankfully, Doug Ford made some recent changes that are going to make us a little more nimble," Whitten says. But the changes coming so close to the Liberal former government's put some clients in a tailspin, says his co-founder Daniel Lublin. "What, definitely, I can see with many of my clients is they're like, 'What is the law now? And why is it changing so much?' It's eroded confidence in the system," he says.
Another area in Ontario that requires urgent reform is the human rights process, the status quo of which negatively impacts both employees and employers, says Whitten. The issue, he says, is that the Ontario Human Rights Tribunal cannot award costs. While employers often find themselves settling baseless human rights complaints because it's less expensive than fighting, employees with a successful case end up paying most of their damages to their lawyer, he says. "So, there is a substantive change that the government needs to be looking at," Whitten says.
The HRTO is also suffering from a lack of judges, leading to delayed and canceled hearings, say Whitten and Lublin. Law Times reported in June a "historic" surge — a 30-per-cent increase — in complaints about decisions and delays in the province's 37 administrative tribunals. The most common complaints were regarding decisions and long delays. "There's not enough vice-chairs to deal with the volume of complaints. And, so,  these things are languishing. And it's both employers and employees [that] are suffering," says Whitten.
Whitten & Lublin's work has a 50/50 split for employees and employers, a balance that gives us a competitive advantage in the field and likely attributes to our success. The two formed the firm 11 years ago and it has grown to 12 lawyers. 
"We understand the issues from both sides of the table. It gives us a strategic advantage when advising clients and, frankly, it gives us insight into how things need to be done," says Lublin. "Our sword is sharp on both sides of the table," says Whitten.
Whitten & Lublin's guiding principle is the results. David Whitten and Daniel Lublin formed the team more than 10 years ago and is now consistently recognized as "leading practitioners" in Lexpert's annual survey. The firm is regularly noted for excellence, including a previous designation by Canadian Lawyer as one of Canada's Top 10 Labour & Employment Boutiques and Canadian HR Reporter's Employment Law Boutique of the Year in each of the last four years. Not only is the firm's outstanding service confirmed by other lawyers and HR professionals but by its diverse client base, including executives, employees, and corporations. Whitten & Lublin has more positive and verified Google business reviews than any other similar practice in Canada.
If you're looking for employment lawyers to get more information about workplace policies and your employment rights, please contact us online or by phone at (866) 658-6811 or (416) 640-2667 today!
Share:
Share on facebook
Share on twitter
Share on linkedin