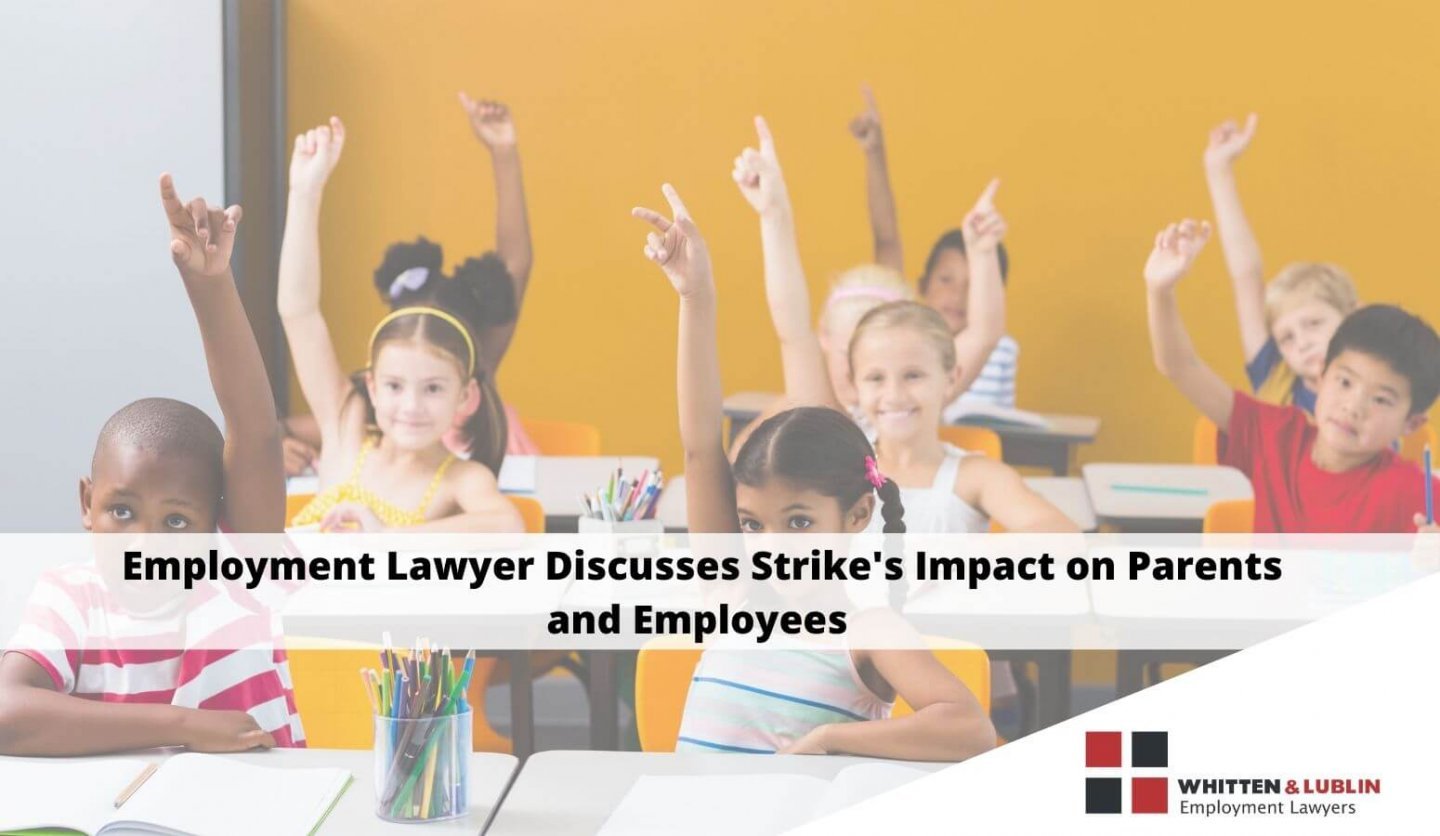 Employment Lawyer Discusses ETFO Strike's Impact on Parents and Employees
The Elementary Teachers' Federation of Ontario (ETFO) which represents some 83,000 educators will be hitting the picket lines this week due to the stalling contract negotiations with the Ford government. The ETFO strike results in working parents having to take extra measures to balance their jobs and caring for their children. While the majority of the jobs allow for work-from-home and flexibility in work schedules, some parents do find themselves at crossroads when their employers do not offer the flexibility required in such circumstances.
Under the Human Rights Code, companies have an obligation to accommodate individuals on the basis of family status which involves being in a parent-child relationship or similar relationships, which means that companies have to find a solution that allows these individuals the ability to take care of their children in such circumstances. The solution is not endless as it depends on the workplace to show flexibility for individuals.
Human Rights obligations & Employment Standards obligation in Canada and Ontario are designed to protect people from anti-discrimination and from unfair treatment. There is naturally some element of disruption that will affect the businesses, but the laws are in place to protect individuals from unfair treatment.
[yotuwp type="videos" id="mVa3iI6pyJo" ]
The strikes are bringing recent legislative changes and the issue of family status accommodations into the spotlight.
With all of Ontario's public elementary school teachers on strike since last week, and teachers planning to escalate their strikes further into this week if no deal is reached, the effects are being felt throughout the province.
Classes have been canceled for nearly one million elementary school students and many parents are scrambling to find suitable child-care arrangements.   While many can look to daycares, grandparents and other loved ones to watch the kids, not everyone has options readily available. For many parents, that means taking time off work.  And for those parents' employers, that can mean ongoing disruption.
What can parents without childcare options do?
For some parents, it will be possible to use vacation days, floater days, or other unpaid leaves available under company policies. For others, the help comes from employment standards legislation.
In early 2019, the Ford government updated the Employment Standards Act by giving certain employees – those who have been employed for at least two consecutive weeks – the right to take a "family responsibility leave".  The family responsibility leave allows employees to take up to three days leave per calendar year – all of it unpaid – where there is an urgent matter that concerns the employee's children (and other close family members). While there is no guidance yet that a labour strike would qualify as an urgent matter – as the urgency has to be both unplanned and out of the employee's control – parents may want to try using this leave. To do so, parents are generally expected to inform their employer in advance.
What other protections do employees have?
Since the family responsibility leave only entitles employees to 3 days of unpaid leave, and there is a real possibility that the strikes extend beyond that, parents may need to look elsewhere for protection at work.
The Human Rights Code protects employees from discrimination on a variety of grounds, including Family Status. This protected ground is defined as "being in a parent-child relationship", but also includes step-parents, adoptive parents, and legal guardians.  As a result of the Code, an employer cannot treat employees worse because they are in a parent-child relationship.  More importantly, employers have an obligation to accommodate their employees' childcare obligations and must do so to the point of undue hardship.
If an employee cannot find childcare arrangements during the strike, or those arrangements affect the hours they can work, employers should be prepared to accommodate those employees.  What those accommodations require will depend on the individual circumstances of each employee and their employer.  Revised hours, working remotely, and additional unpaid time off work may be among the options to be considered.
Expectations from Employers
While employers will likely need to demonstrate flexibility during the strike, they can still take various steps to protect against business disruption.
For example, not every parent will be entitled to accommodations.  It is reasonable for employers to ask what alternatives the parent has available and whether accommodations are truly needed.  Even employees who need accommodations cannot simply pick their preferred form of accommodation; the choice belongs to the employer, as long as it meets the accommodation need.  For example, if much of the staff prefers to work remotely but the employer needs a minimum amount of staff to operate, they may be entitled to require some staff to come in after drop-off and before pick-up.
Also, in jobs were employee safety would genuinely be put at risk if the employee is not there, the employer may be able to justify not accommodating at all.
Historically, many of the rights enjoyed by employees in Ontario have come as a result of labour unions pressing for reform through disruption.  So while the current strike may be causing many parents frustration, it is largely because of prior labour action that parents have the kinds of protections they enjoy today.
And if the strike drags on as the government and teachers unions struggle to find common ground, hopefully, employers and parents will have more success working together to find suitable accommodations.
If you're looking for employment lawyers to get more information about workplace policies and your employment rights, please contact us online or by phone at (866) 658-6811 or (416) 640-2667 today!
Author: Stephen Wolpert, Partner, Whitten & Lublin Employment Lawyers
Share:
Share on facebook
Share on twitter
Share on linkedin