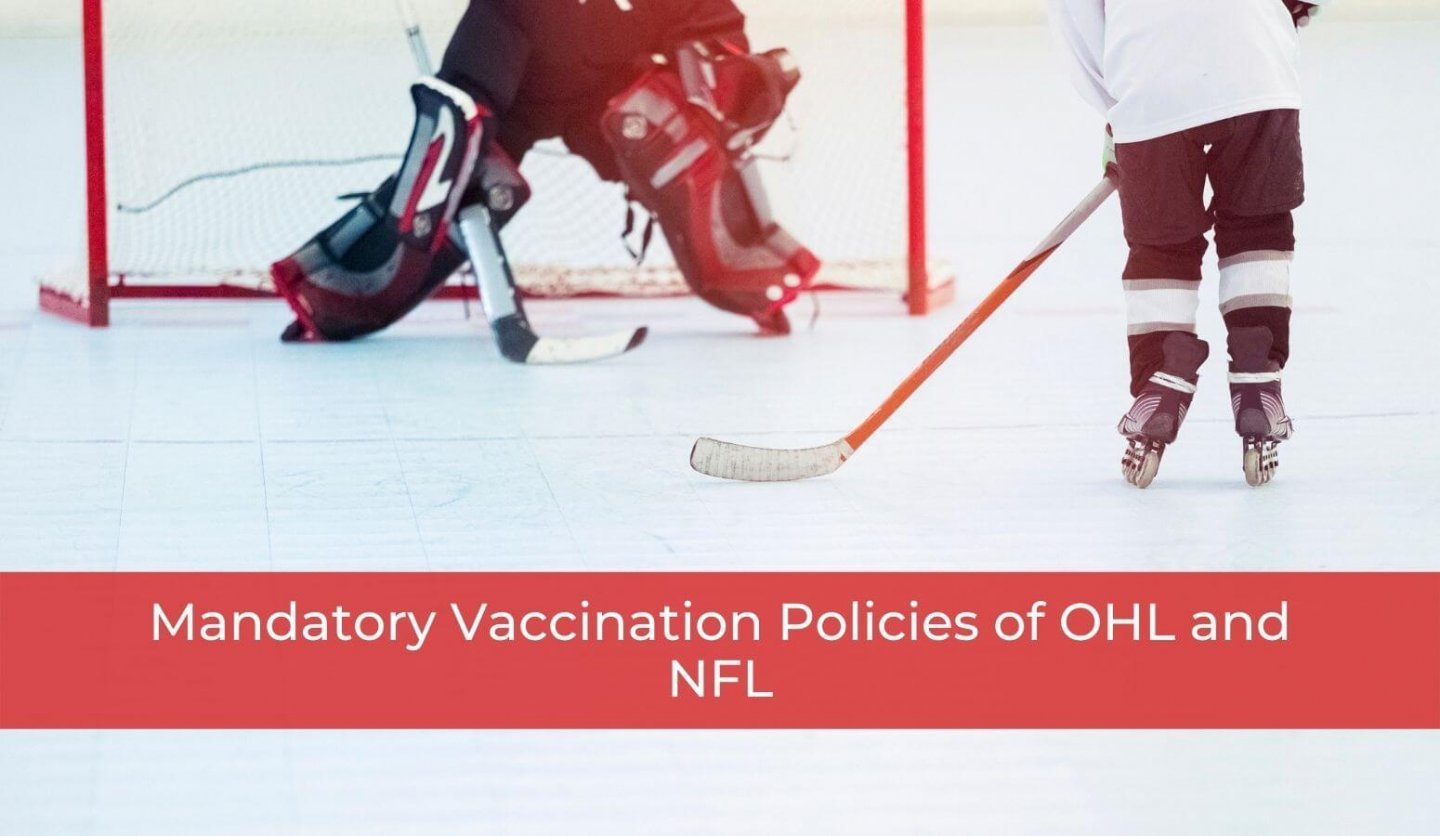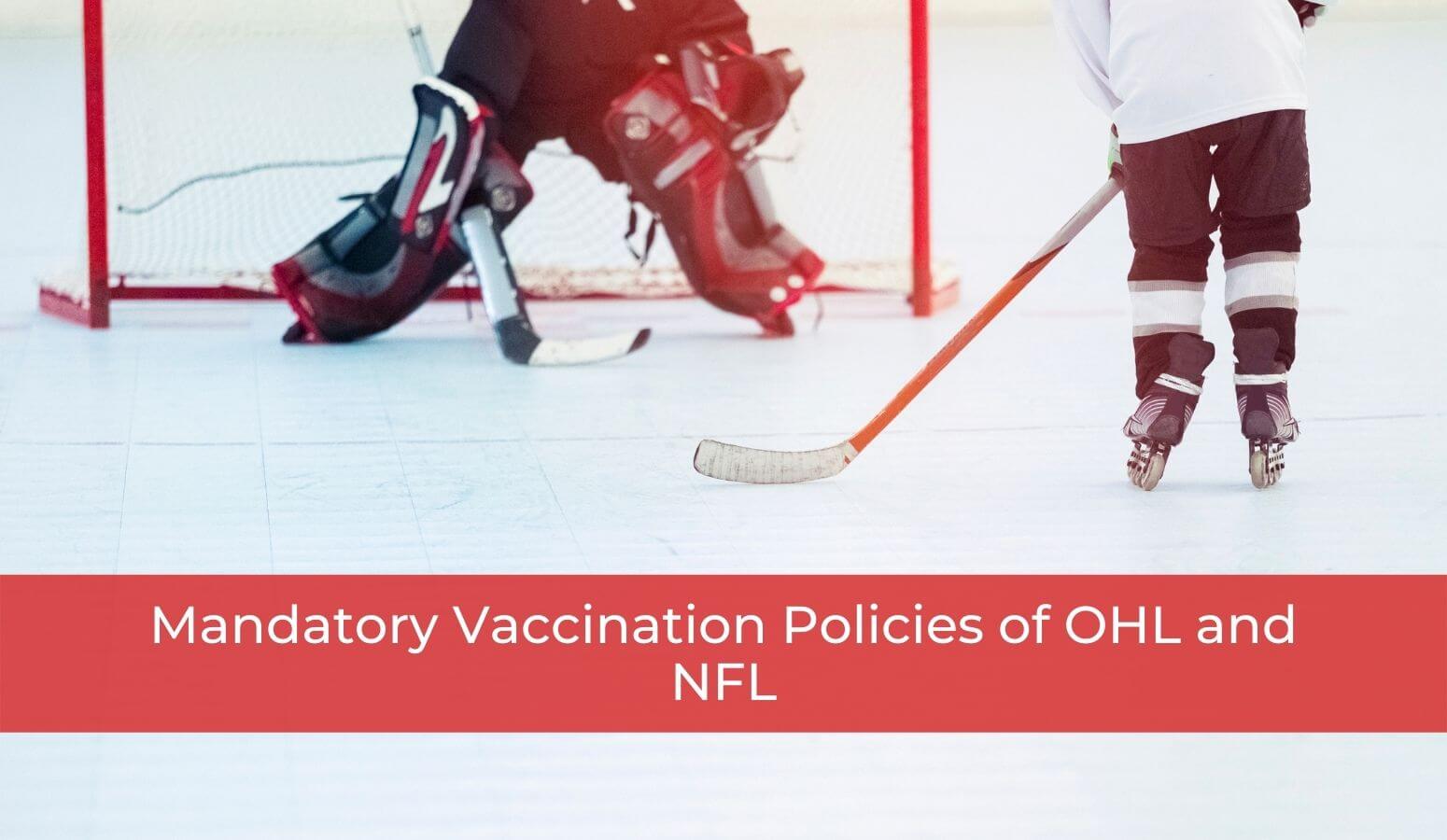 OHL Vaccination Policy – Mandatory Vaccination Policies of OHL and NFL
The Ontario Hockey League ("OHL") has recently released its COVID-19 vaccination policy, which requires all OHL Community Members to be fully vaccinated at least 14 days before the commencement of the 2021/2022 season. The OHL vaccination policy explicitly mentions that coaches, trainers, team and league staff, officials, volunteers, and even players must be fully vaccinated. However, it remains unclear whether or not this policy would also apply to fans who attend the games in person.
The OHL vaccination policy also contains discipline measures. For instance, for failing to obey the policy, team/league employees may be placed on an unpaid leave of absence, players may be removed from the team roster, and volunteers or billet parents will not be permitted to be involved with the OHL "for the duration of the pandemic or until such time that COVID- 19 no longer poses a significant public health risk".
Of course, the OHL vaccination policy provides accommodation options in compliance with the Ontario Human Rights Code (or the applicable State and the U.S. Federal legislation). This policy seems to be a balancing act to satisfy the competing requirements of occupational health and safety and individuals' rights in accordance with precedents at the Human Rights Tribunal of Ontario.
The National Football League ("NFL") also issued multiple policies regarding the COVID-19 vaccine. An earlier NFL policy in April requires the Tier 1 and 2 employees (excluding players) to get vaccinated unless "they have a bona fide medical or religious ground for not doing so". Those who refuse without an eligible reason "will not be permitted access to the 'football only' restricted area and may not work directly or in close proximity with players". This policy seems to be effective as the NFL has announced that "nearly all clubs have vaccinated 100 percent of their Tier 1 and 2 staffs".
The NFL's most recent COVID-19 vaccination policy sets stiff penalties for teams with unvaccinated players and staff.  Any team failing to obey the policy may be forced to forfeit a game. If the game cannot be rescheduled, then a loss will be credited to the team along with forfeiture of pay. If this were not enough, the responsible team would need to cover the other team's financial losses and be subject to additional sanctions.
Even more interesting is the NFL is now allowing teams to use wristbands to distinguish vaccinated from unvaccinated. The NFL Players Association (the "Union") have expressed that they were against using colour-coded wristbands as the wristbands are "unnecessary".  According to the Union, the unvaccinated have to wear masks whereas the vaccinated do not, which serves as a differentiator. The NFL has deferred the decision to individual teams.
The OHL vaccination policy along with that of the NFL's COVID-19 vaccination policies have set examples for other sports leagues and various organizations. It remains to be seen how these changes will be accepted by both teams and fans alike.
To better understand vaccination policy-related issues during these unprecedented times, we encourage employees and employers to seek legal advice. We at Whitten & Lublin are happy to provide insight and advice into your specific circumstances. If you are looking for employment lawyers and would like more information about what Whitten & Lublin can do for you, please contact us online or by phone at (416) 640-2667 today.
Author: Luna Li