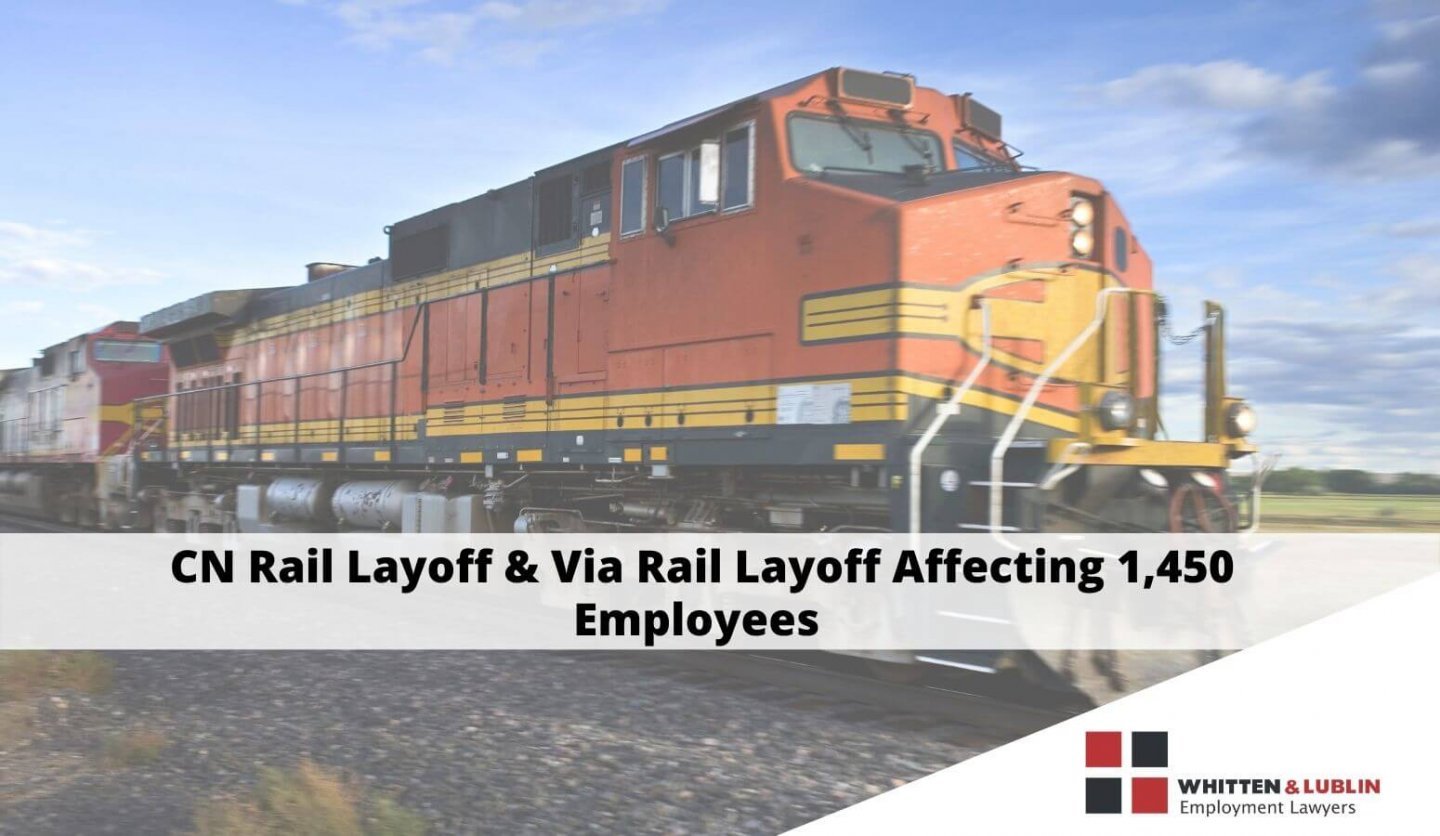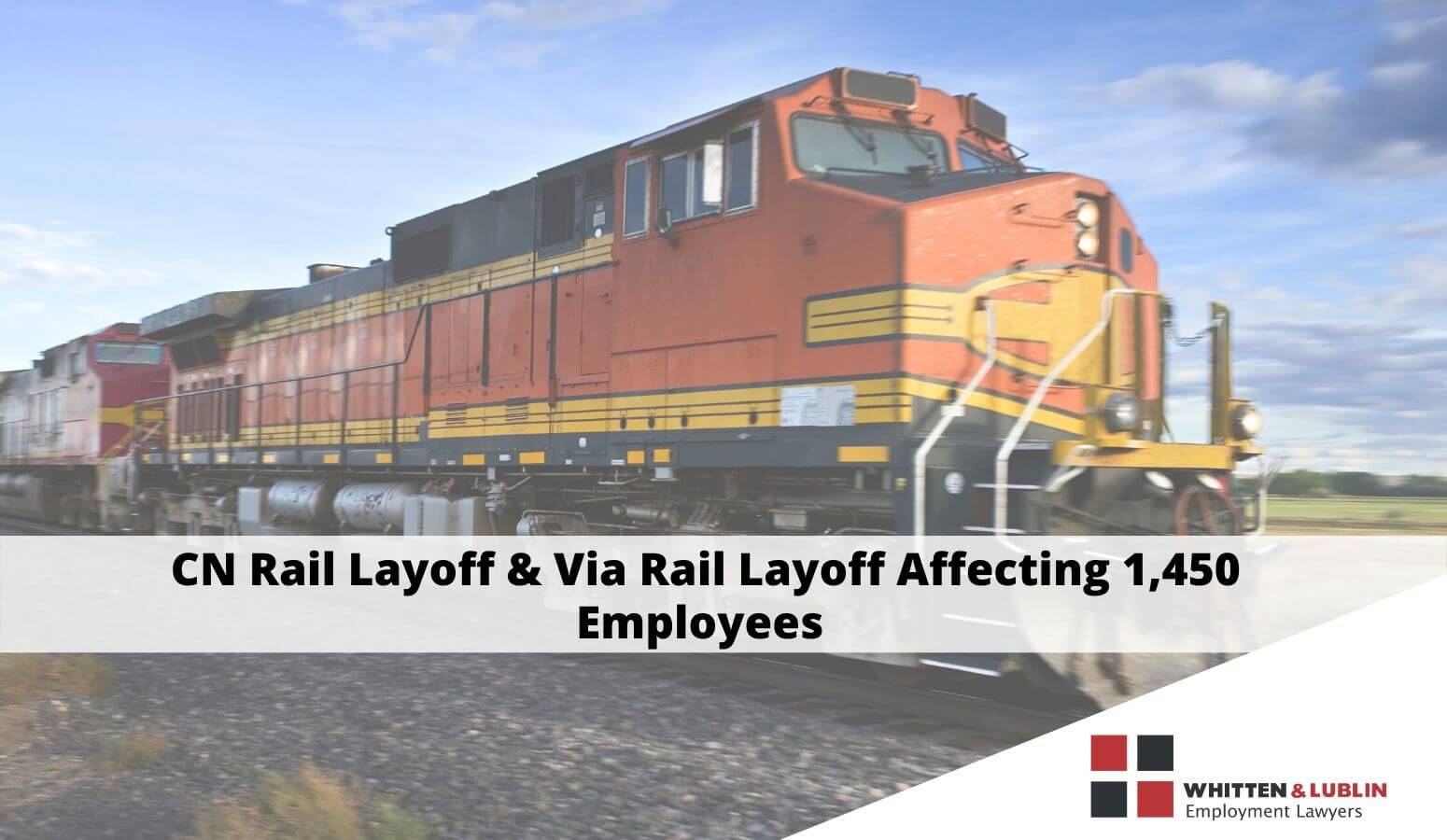 CN Rail Layoff & Via Rail Layoff Affecting 1,450 Employees – Understanding Temporary Layoff
To better understand employee rights during a temporary layoff, CP24 talks with Daniel Lublin, an Employment Lawyer, and Partner at Whitten & Lublin Employment Lawyers.
This is a very difficult time for many people across the country but for many of these individuals who have been affected by the CN Rail layoff and Via Rail layoff, a lot of them want to know what are their rights in these kinds of scenarios and are temporary layoffs legal?
If you're part of a union, like CN and Via Rail employees, you're probably out of luck when it comes to a temporary layoff because most of the collective agreements for unionized employees have a provision that allows for it. Now, for 80% of the workforce in Canada who are non-union employees, the temporary layoff is a termination in disguise. You can deem it or treat it as termination and claim damages as if you've been dismissed.
How long is "temporary" and during that period can someone go ahead and get EI? Temporary Layoff Employment Rights
In the most labour statutes, the temporary layoff is for 13-weeks or less; and the expectation is that the employees will go get EI; but in my opinion, it's the bad strategy for non-unionized employees to wait around, keep their fingers crossed and hope that they'll be recalled to work. In a lot of cases, a temporary layoff is essentially a severance saving strategy that the employers deploy so they don't have to pay the severance entitlements.
[yotuwp type="videos" id="1YbPzVfYGKI" ]
If the employee finds a full-time job while being "temporarily laid-off" as part of the CN Rail layoff, the employer doesn't have to pay severance, is that correct?
Employers don't have to pay severance from the time someone finds employment. So, instead of laying off people permanently, they strategically lay them off temporarily, thinking that someone of them will find full-time jobs and they won't have to pay them the severance.
What happens if someone finds a full-time job, but then also gets called back to their original jobs?
If the employee chooses to go back to work, then they are reinstated with their seniority and status, and the employment continues without any change. But if the employee finds a better job, they can choose to just ignore the recall-letter and that will be viewed as job abandonment or resignation from the employee and they will not receive any severance.
Is the employer responsible if the layoff is caused by an intervening event like this?
The Case Law and Appellate Court decision makes it clear that it doesn't matter what the need is that triggered the circumstances that led to the temporary layoff. Case Law is clear – a temporary layoff unless its an employment agreement or collective agreement, is illegal and its essentially a constructive dismissal which is a termination in disguise.
What is the advice that you as an Employment Lawyer will give to the people who have recently faced "temporary layoff"?
Step 1- Start looking for another job; it is not a good strategy to just sit around waiting for the recall
Step 2 – If you're not prepared to accept your temporary layoff, go see a lawyer, because you have rights and you can claim severance and damages for the period of unemployment.
With years of experience in this ever-changing area of law, we at Whitten & Lublin are happy to provide insight and advice into your specific circumstances. If you're looking for employment lawyers and would like more information about what Whitten & Lublin can do for you, please contact us online or by phone at (416) 640-2667 today.
Share:
Share on facebook
Share on twitter
Share on linkedin