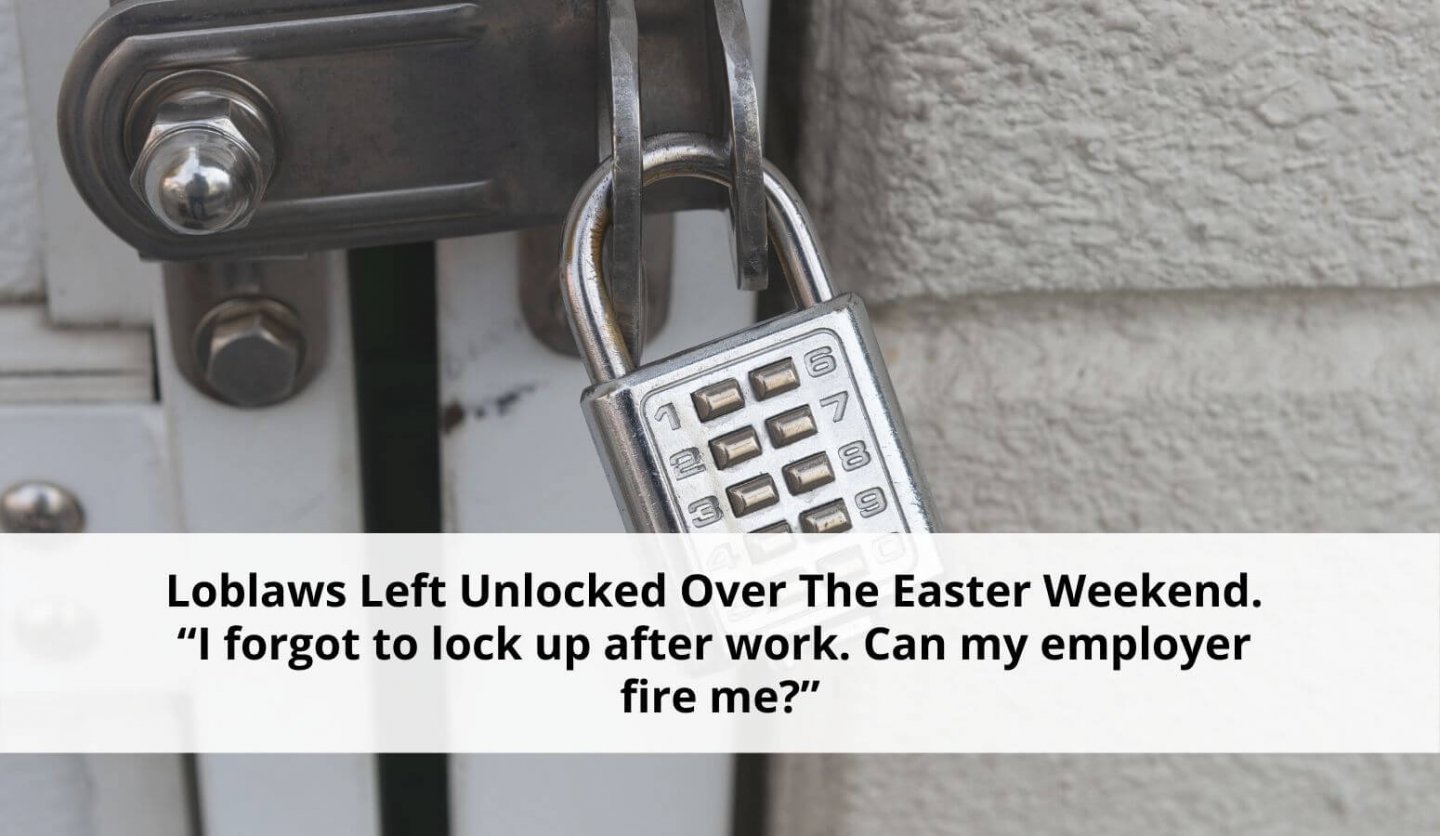 Employment Law: Loblaws Left Unlocked – Who is at Fault?
In COVID-19 times, the news is released almost by the hour and it is difficult to stay on top of each news story. One story that flew under the radar was that of a Loblaws left unlocked in Forest Hill over the morning of Easter Sunday. A number of customers were able to enter the Loblaws and conduct their grocery "shopping," but without any staff at the Loblaws to process people's purchases, many people left without paying.
This scenario raises many questions in the employment law context, namely, can someone be fired over such an incident as this of Loblaws left unlocked?
The answer depends partly on whether the employee responsible for the error is unionised or not. Unionised employees cannot be terminated absent just cause, whereas a non-unionised employee can be terminated with or without just cause. If there is no cause, employers must provide reasonable notice of termination.
What is just cause? Just cause for dismissal exists where the misconduct violates an essential condition of the employment contract, breaches the trust inherent to the work-relationship, or is fundamentally or directly inconsistent with the employee's obligations to their employer. Where the misconduct is incompetence, the incompetence must be serious to give rise to a just cause.
However, just cause for incompetence may also be justified on a lower standard where an employee consistently fails to meet the performance standards of the job, or where there are a number of incidents of performance-related problems which individually are the insufficient just cause but cumulatively amount to a just cause. If relying on this lower standard, the courts will expect the employee to have received corrective or progressive discipline in the form of a clear warning and a reasonable opportunity to correct the problem before the employer can terminate the employment for cause.
In this case of Loblaws left unlocked, for a single mistake to rise to the high standard that is just cause, there must be some aggravating factors such as dishonesty (if the employee responsible for locking the door that night is dishonest during Loblaws' investigation into why the door was left unlocked) or evidence that the act was willful. Ultimately, this single mistake is likely not sufficient to give rise to a just cause. If the employee had a history of neglecting their duties, and/or was not forthcoming during the investigation, the outcome could be different.
We have not heard more news related to this incident, hopefully, the employee remains employed or received a reasonable severance package. On a more editorial note, Loblaws would likely face some public backlash if it were to terminate the employee, given the current climate of support for grocery store employees.
With years of experience in this ever-changing area of law, we at Whitten & Lublin are happy to provide insight and advice into your specific circumstances. If you're looking for employment lawyers and would like more information about what Whitten & Lublin can do for you, please contact us online or by phone at (416) 640-2667 today.
Share:
Share on facebook
Share on twitter
Share on linkedin