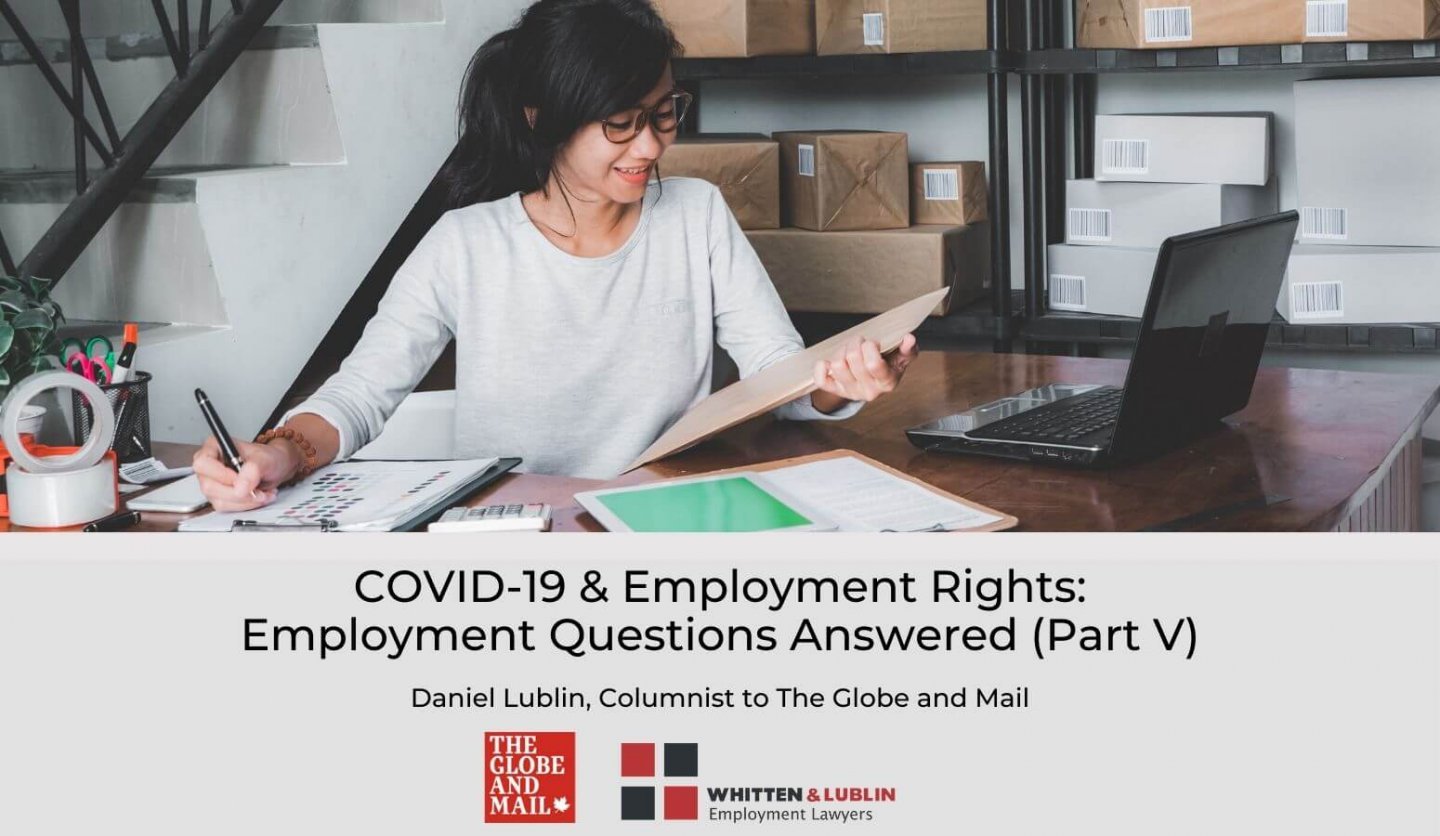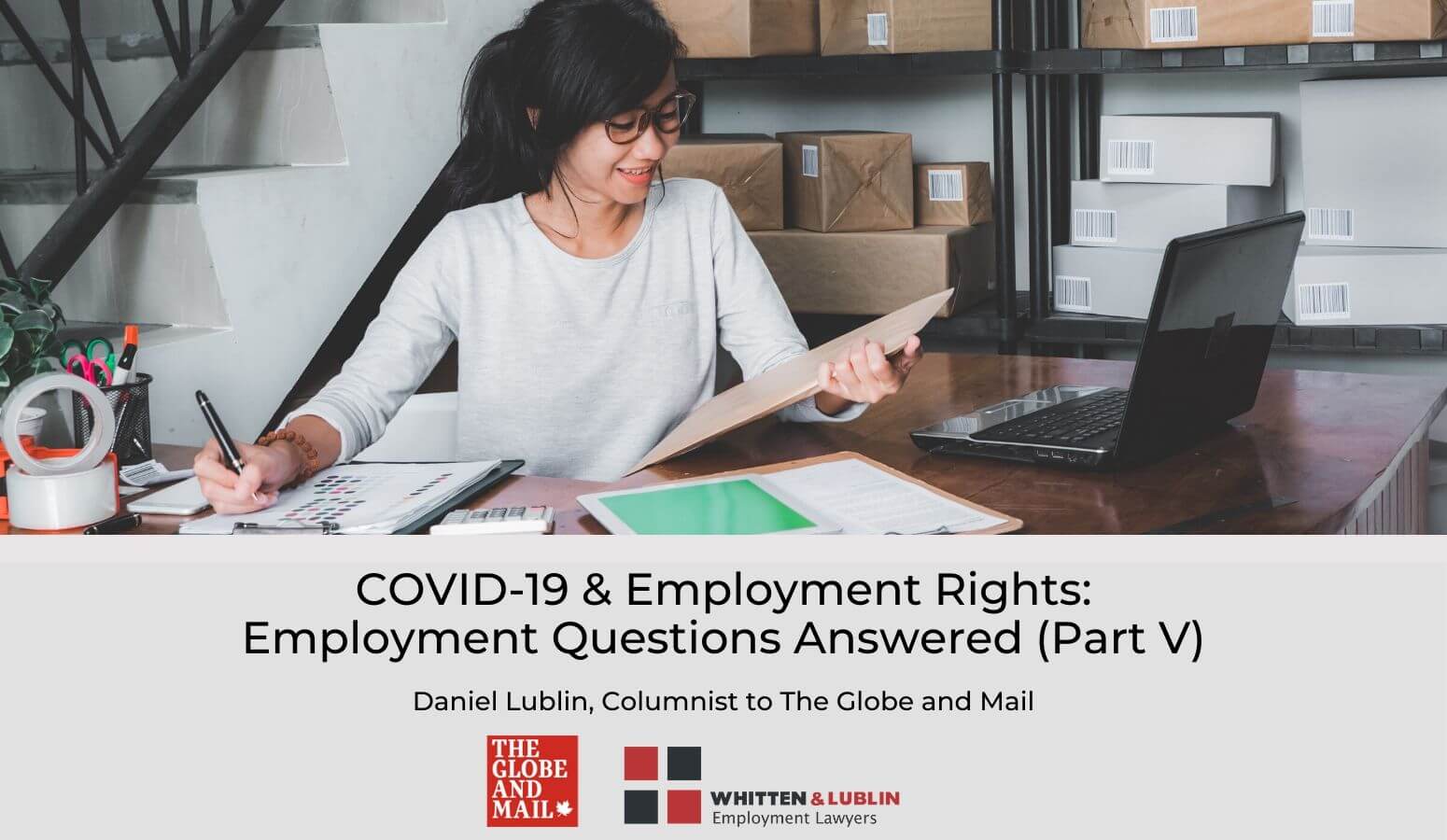 COVID-19 & Employment Rights: Employment Questions Answered (Part V)
DANIEL LUBLIN, SPECIAL TO THE GLOBE AND MAIL
Daniel Lublin, a Partner and Employment Lawyer at Whitten & Lublin Employment and Labour Lawyers, talks to The Globe and Mail to answer some of the employment questions revolving around COVID-19 & employment rights.
Do self-employed individuals or contractors qualify for any financial protection if they are laid off, become sick or are in self-isolation?
Absolutely. The Canada Emergency Response Benefit is designed to provide up to $2,000 per month for up to 4 months of income replacement for workers, including self-employed workers and contractors, who face unemployment due to COVID-19, including those who are sick, quarantined, or in directed self-isolation.  To be eligible, they must have had income of at least $5,000 in 2019 or in the 12 months prior to the date of application, which includes income paid by way of non-eligible dividends.   
Just like employees, contractors in voluntary self-isolation would not be eligible for these benefits. 
Can my employer require me to accept a large reduction to my salary, a reduced wage or fewer hours, or alternatively to be temporarily laid off. Is this legal?
You cannot be forced to accept any significant and harmful changes to your employment, including your rate of pay, hours of work or the elimination of other perquisites you are normally entitled to (such as benefits, commissions, bonuses, allowances). Significant changes must be negotiated by agreement.  If these types of changes are imposed upon you without your agreement, it can amount to a constructive dismissal, allowing you to claim damages for the loss in pay, or in some cases allowing you to leave work and claim severance while you look for another job.
A temporary layoff falls into the same category as it too is a significant change to the terms of your job.
Like many Canadians, you may decide that some work is better than no work at all and agree to changes to your pay or hours on a temporary basis. But if you do, you should make it clear that you are not waiving any rights to pursue legal action later to recover the lost income (i.e. the difference in your pay). You should also make it clear that you are not agreeing that a temporary layoff will be allowed in the future. 
If your employer implements significant changes without your consent, you may have the right to make a legal claim. Whether you do so or not should be discussed with a lawyer. It remains to be seen how Canadian courts will handle situations where employers opted to reduce hours and pay instead of terminating employees. I suspect that employers will be given some additional leeway in these challenging times in order to maintain business operations rather than shutting down.
If you've got more COVID-19 & employment rights questions about salary during Coronavirus, please contact us. With years of experience in this ever-changing area of law, we at Whitten & Lublin are happy to provide insight and advice into your specific circumstances. If you're looking for employment lawyers and would like more information about what Whitten & Lublin can do for you, please contact us online or by phone at (416) 640-2667 today.
Share:
Share on facebook
Share on twitter
Share on linkedin