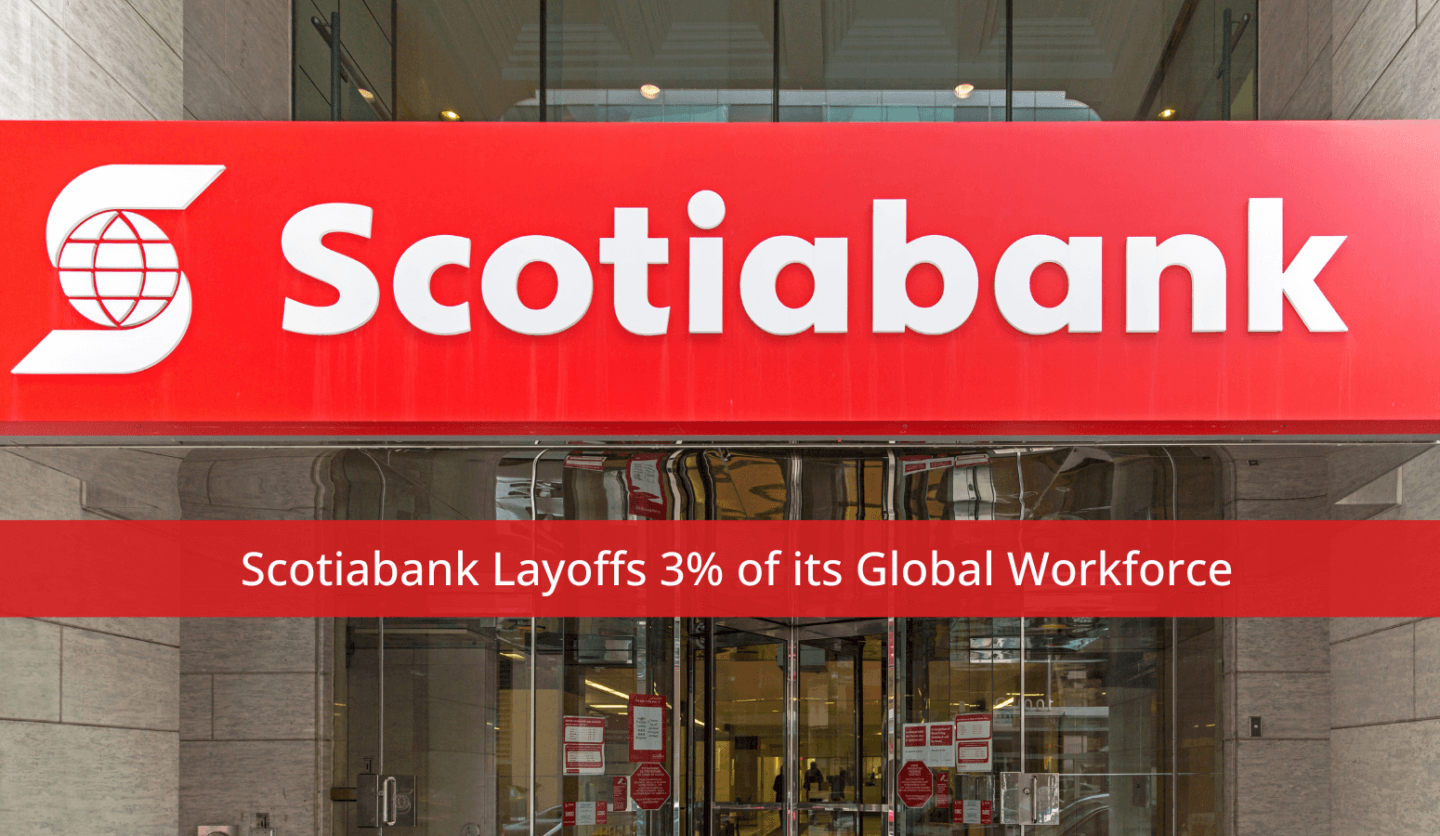 Scotiabank Layoffs 3% of its Global Workforce
Scotiabank layoffs & expects its Q4 results to be adversely affected by restructuring, job cuts, and impairment charges.
Scotiabank's layoffs announcement reveals plans to cut three percent of its global workforce due to evolving customer banking preferences and a desire to streamline operations. This move will impact the bank's fourth-quarter financials, resulting in a $590 million after-tax ($783 million pre-tax) hit. Approximately 2,700 jobs will be affected, given the bank's workforce of 91,013 employees as of July 31.
Scotiabank's Restructuring: Financial Impact and Future Outlook
The restructuring will also incur a $63 million charge related to property and service contract exits and $280 million in impairment charges related to an investment in China's Bank of Xi'an Co. Ltd. The bank anticipates realizing savings from these changes throughout fiscal 2024, with full benefits expected in fiscal 2025. More details will be shared in the fourth-quarter earnings release on November 28.
Severance pay for Scotiabank's employees
In Canada, non-unionized Scotiabank employees and executives are entitled to receive complete severance pay if they lose their jobs due to downsizing or corporate restructuring. The amount of severance pay can vary, potentially reaching up to 24 months' worth of pay, dependent on various factors. With mass layoffs such as these, sometimes severance pay can be even greater.  If employees believe they are not receiving the full amount they are entitled to, they should seek legal counsel to ensure they receive their rightful compensation.
At Whitten & Lublin, we understand that facing job loss or termination can be a stressful and challenging experience. Our experienced employment lawyers can help you navigate your legal options and ensure that you receive the compensation you are entitled to. We encourage anyone affected by the recent layoffs in Canada to contact us for a consultation either online or by phone at (416) 640-2667 today.
---