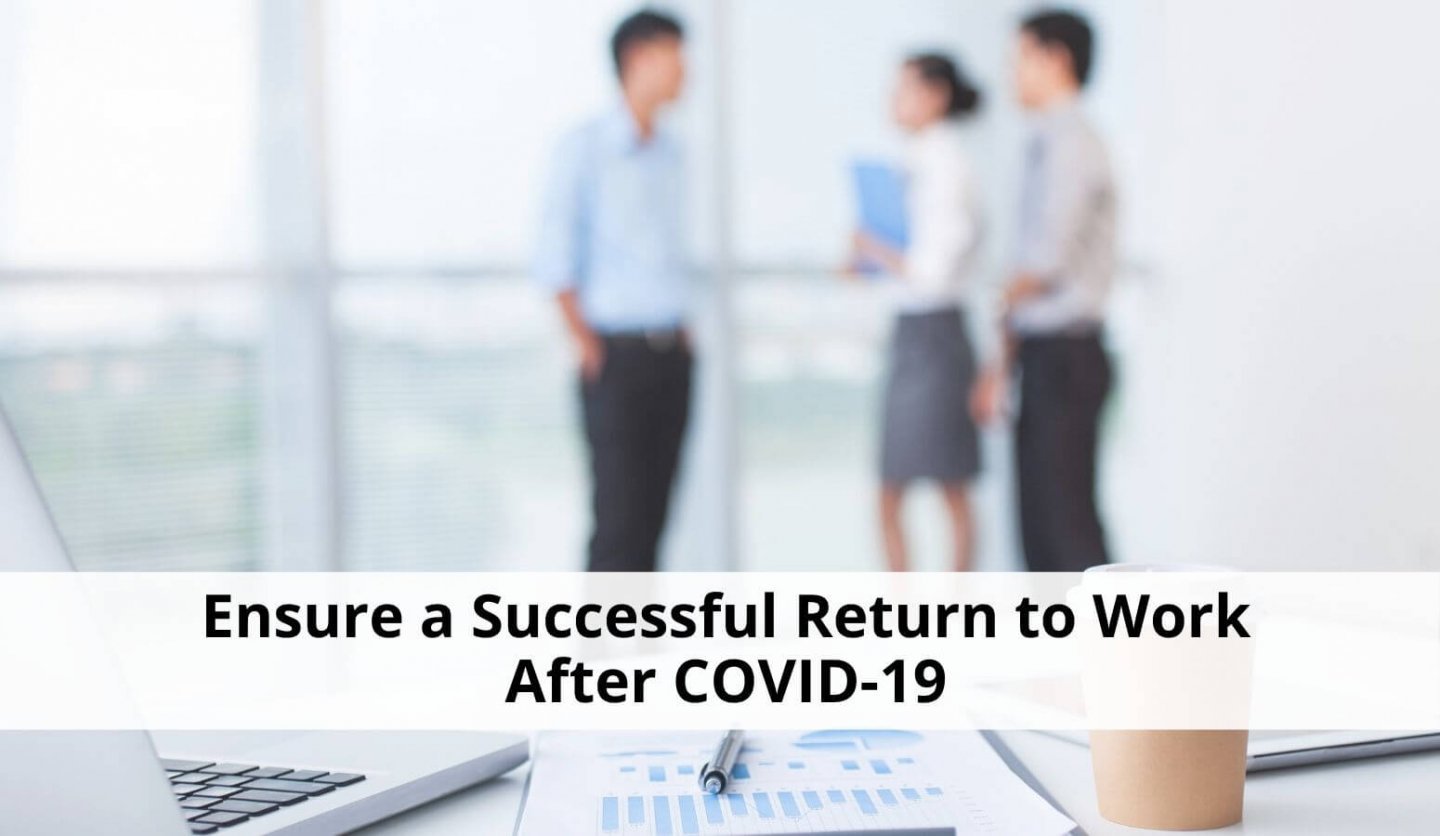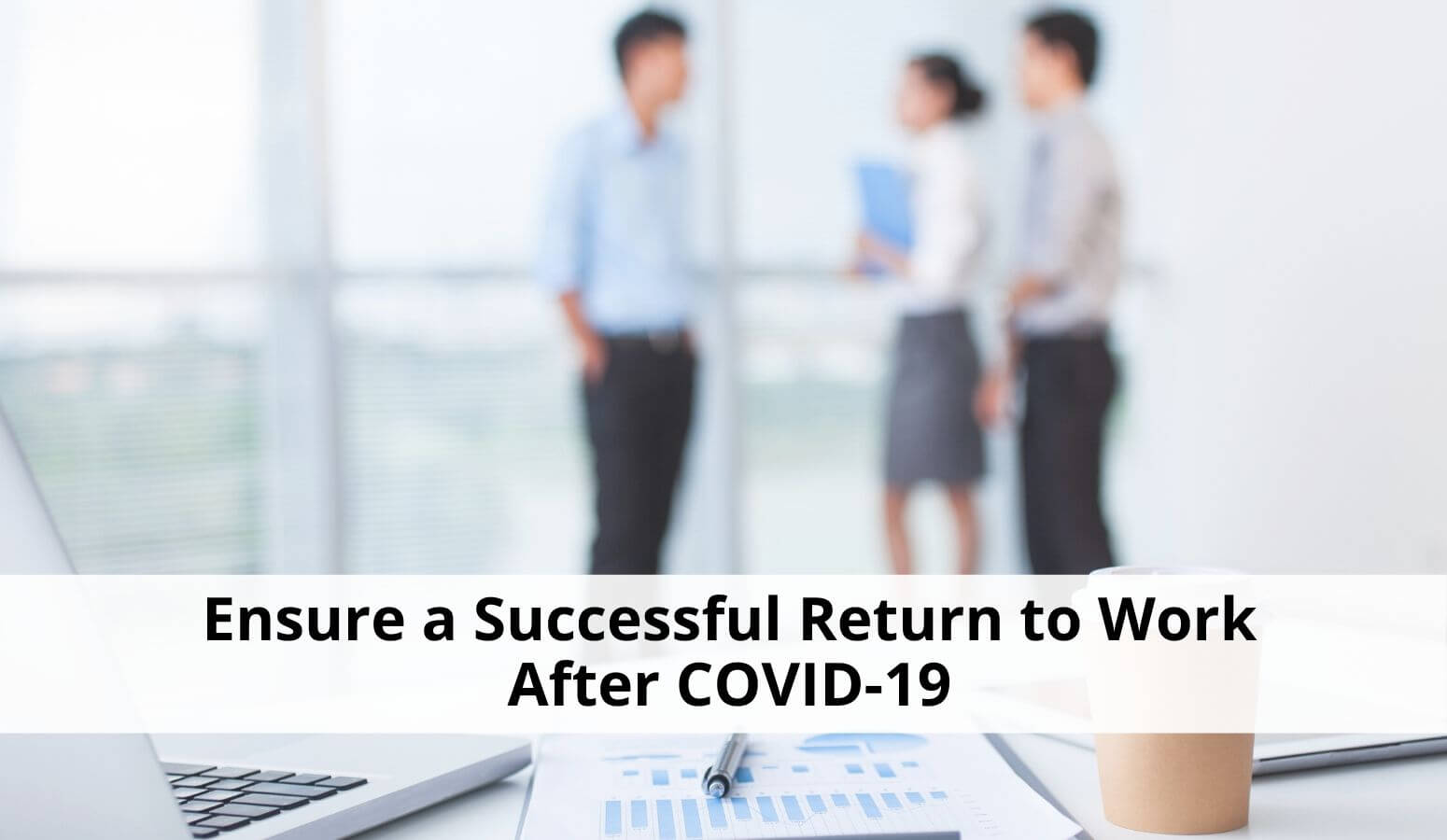 Ensure a Successful Return to Work After COVID-19
The unprecedented COVID-19 pandemic has resulted in new workplace considerations for return to work after COVID-19 across a variety of areas. With the inevitable reopening of many businesses, it is crucial that employers turn their minds to implementing a rational plan for reopening to ensure a smooth transition back to work in a COVID-19 world.
Return to work after COVID-19 has many employees on the edge about workplace safety and health measures. We have rounded up a non-exhaustive checklist for your employers' consideration with regards to the various legislative obligations. If you are concerned about returning to work after COVID-19, sharing this list with your HR representative might be a good starting point.
Safety measures that comply with health and safety obligations.
Pursuant to the Occupational Health and Safety Act, R.S.O. 1990, c. O.1, Ontario employers have an obligation to keep workers and work sites safe and free of hazards. Federally regulated employers have similar obligations under the Canada Labour Code, R.S.C., 1985, c. L-2 ("CLC").
As a result, it is critical that employers implement safety measures to ensure that the business can operate in a workplace that complies with the above health and safety obligations and employees can safely return to work after COVID-19.
The safety measures should consider the following:
Comply with applicable provincial and federal guidelines. For example, on April 30, 2020, the government of Ontario released the following workplace safety guidelines: Health and Safety Association Guidelines – Government of Ontario;
Consider how social distancing can be implemented: For example, consider the need to limit the number of employees recalled to work, stagger start times, implement breaks and eating periods, restrict the number of people permitted in a given area at a particular time, etc.;
Consider how personal hygiene can be enhanced: consider providing alcohol-based hand-sanitizer throughout the office at various team-stations, posting additional signage posted at all handwashing stations, identifying proper handing washing techniques and frequency;
Consider whether all or some of your employees need personal protective equipment ("PPE") when they return;
Consider implementing any screening measures for returning employees;
Make changes to the physical layout of the workplace. For example, revise floorplan, introduce signage, etc.;
Ensure the sanitization of the workplace. For example, ensure air filters/ventilation is in good working order, door handles and common spaces are consistently sanitized, etc.;
Introduce protocol for symptomatic employees. Consider how to isolate them / get them home or to a hospital, what to tell others in the workplace, whether provincial authorities need to be notified, whether to suspend/adjust nearby operations, determine circumstances when they can return (sufficient self-isolation and asymptomatic and/or negative COVID test); and
Anticipate employee concerns and prepare for refusals to work. Review the process for employees reporting their concerns, the protocols for investigations to be conducted, and the corrective actions to be made available.
It is important to consult your joint health and safety committee (create one if there is none in place) or health and safety representative regarding the safety measures being put in place.
Workplace policies for return to work after COVID-19 that comply with employment legislation standards
The Ontario Employment Standards Act, 2000, S.O. 2000, c. 41 ("ESA") and CLC establish minimum standards for provincially regulated and federally regulated employees respectively. These legislations dictate minimum wage, hours of work limits, termination of employment, public holidays, various leaves, severance pay, vacation, and more.
Employers should review the applicable employment legislation and should consider the following:
Implementing procedures for employees to apply for leaves, such as the Declared Emergency Leave or Infectious Disease Emergency Leave (ESA), COVID-19 Leave (CLC);
Reviewing absenteeism policy;
Scheduling hours of work to fit within the hours of work limits and other scheduling restrictions in the ESA and CLC;
Implementing procedures to track hours of work for overtime for employees continue to work full-time from home; and
Scheduling vacation for employees.
Human rights considerations
On March 23, 2020, the Ontario Human Rights Commission ("OHRC") released a policy position stating that Ontario Human Rights Code, R.S.O. 1990, C. H. 19 (the "Code") ground of disability is engaged in relation to COVID-19. Furthermore, other Code-protected grounds, such as family status, age, race, or place of origin may be engaged in relation to COVID-19.
As a result, employers must consider the following:
Update workplace harassment and discrimination to cover any complaints in relation to COVID-19;
Have a process in place to address individual employee or customer accommodation needs; and
Consider training employees on key human rights issues that are affected by COVID-19.
Contractual and common law considerations
The significant financial impact of COVID-19 may inevitably prompt many employers to change the terms and conditions of their employees' employment agreements, such as reducing employees' wages or hours, laying-off employees, or even terminating employees.
As a result, employers must be aware of the following:
Review the terms of the employment contract to see if it permits employers to implement changes such as temporary lay-offs, changes in compensation, etc.;
Ensure changes are not contrary to the minimum standards set out in the ESA or the CLC; and
Consult a lawyer regarding the common law implications of changing the terms and conditions of their employees' employment agreements
The considerations outlined above are part of our continuing efforts to keep employers and employees informed about COVID-19 especially when it comes to return to work after COVID-19. Whitten and Lublin have a team of experienced employment lawyers that will consult you on the appropriate measures to ensure a successful return to work in a COVID-19 world. If you would like more information about what Whitten & Lublin can do for you, please contact us online or by phone at (416) 640-2667 today.
Author: Tommy Junho Hong