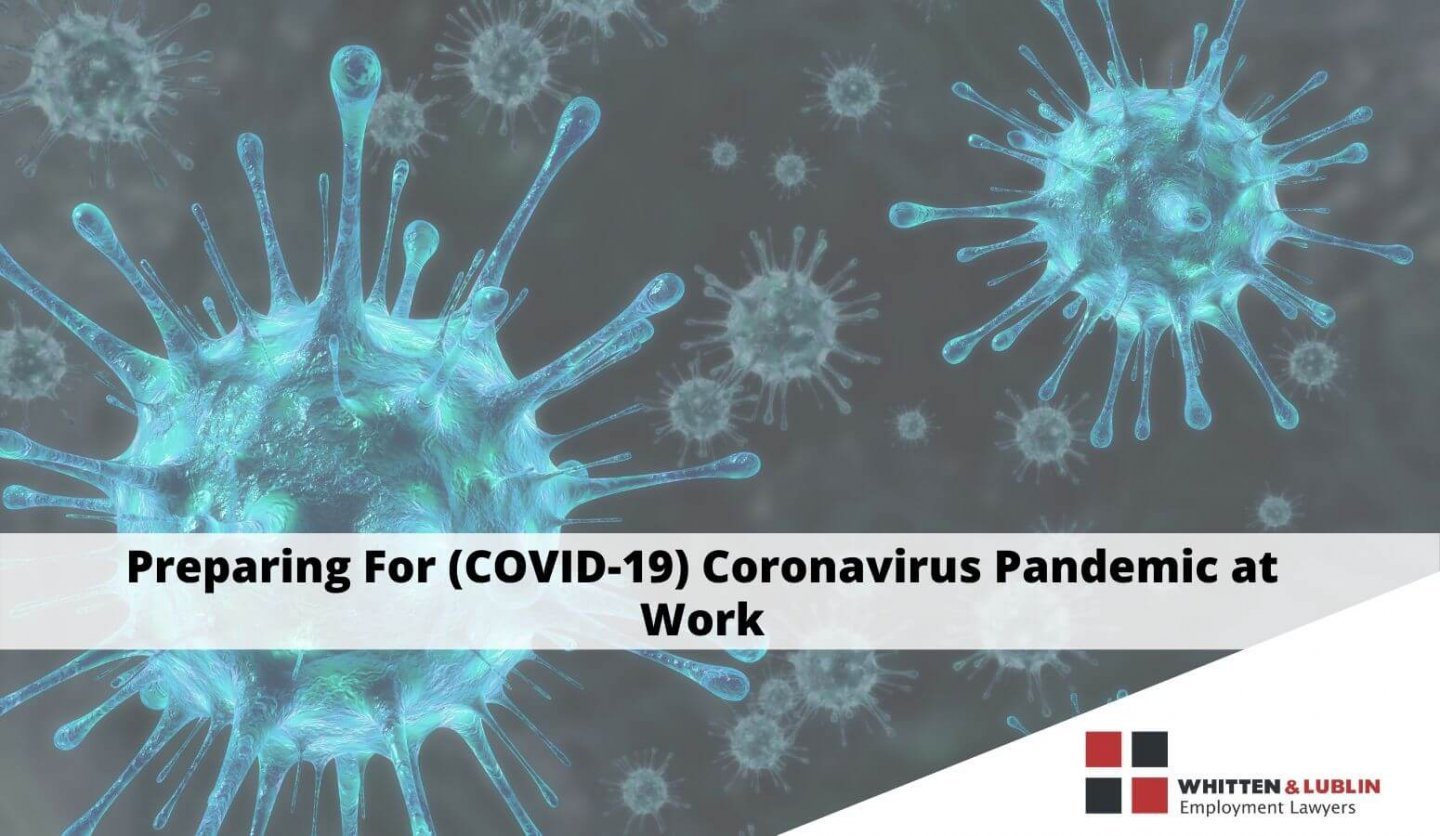 Preparing For (COVID-19) Coronavirus Pandemic at Work
Amidst growing concerns about the spread of COVID-19, commonly called the Coronavirus pandemic, what workplace provisions exist for employers and staff in this time of crisis?
How a workplace responds to health emergencies including disease outbreaks is vital. If done right, well-being for all staff can be managed. Employment Lawyer Ryan Watkins explores the implications for workplaces when it comes to illnesses like Coronavirus / COVID-19. He explains how to best plan ahead and help maintain workplace wellness for all.
With the outbreak of Coronavirus around the world, it's important that companies are prepared to deal with health emergencies. How are employers responsible for preventing the spread of contagious illness or disease?
Employers are responsible to protect their workers under The Occupational Health and Safety Act in Ontario, which specifically discusses that employers are required to keep their workers safe. However, with the outbreak of Coronavirus, there is a possibility that people experiencing cold symptoms are being discriminated against at work. Employers need to take preventative measures and when an employee is sick, they should ask the respective employee to take a sick day and try to get as much rest as possible, get checked out by a doctor and return to work when they're ready.
Can employers require that their staff wear a face mask?
Requiring an employee to do so would be tricky unless there is a rational reason to do so. Just because there is a Coronavirus pandemic out there, employers cannot make "wearing a face-mask" mandatory. However, if an employee has been sick or has been near someone who has the virus, then it is right to take preventative measures and ask the employee to wear a face mask so as the other workers do not get sick.
What can healthy employees do to protect themselves – do they have the right to refuse to work?
If there is no danger of employees contracting the virus from their work surroundings, there is no reason for employees to refuse work.
If someone has flu-like symptoms or Coronavirus symptoms and needs to stay home, how are they covered?
The policies, regulations, and statutes still apply to workers. In Ontario, if an employee has worked for an employer for at least 2 weeks, they are entitled to 3 days of unpaid sick leave and unpaid critical leave which can be up to 37 weeks. In addition, some employers offer short-term disability provisions and there are also sick leaves under EI. An employer cannot force you to take vacation days since there are other options available.
Instead of waiting for an illness outbreak like Coronavirus pandemic, what are the 3 steps that employers can take to prepare now?
1. Encourage good health practices – washing hands, sanitizing, having tissues available.
2. Communicating with employees that if they're not feeling well, they can stay at home. Also, making sure that all employees are aware of the provisions regarding sick leaves.
3. Ensure that you're prepared. Employers who do not have policies in place, need to speak with an employment lawyer for drafting necessary policies to ensure the employees know what their rights are.
The Occupational Health and Safety Act in Ontario, for instance, allows a worker to skip work if evidence suggests that the life, health, and safety of the worker or their colleagues are under threat.
With years of experience in this ever-changing area of law, we at Whitten & Lublin are happy to provide insight and advice into your specific circumstances. If you're looking for employment lawyers and would like more information about what Whitten & Lublin can do for you, please contact us online or by phone at (416) 640-2667 today.
Share:
Share on facebook
Share on twitter
Share on linkedin