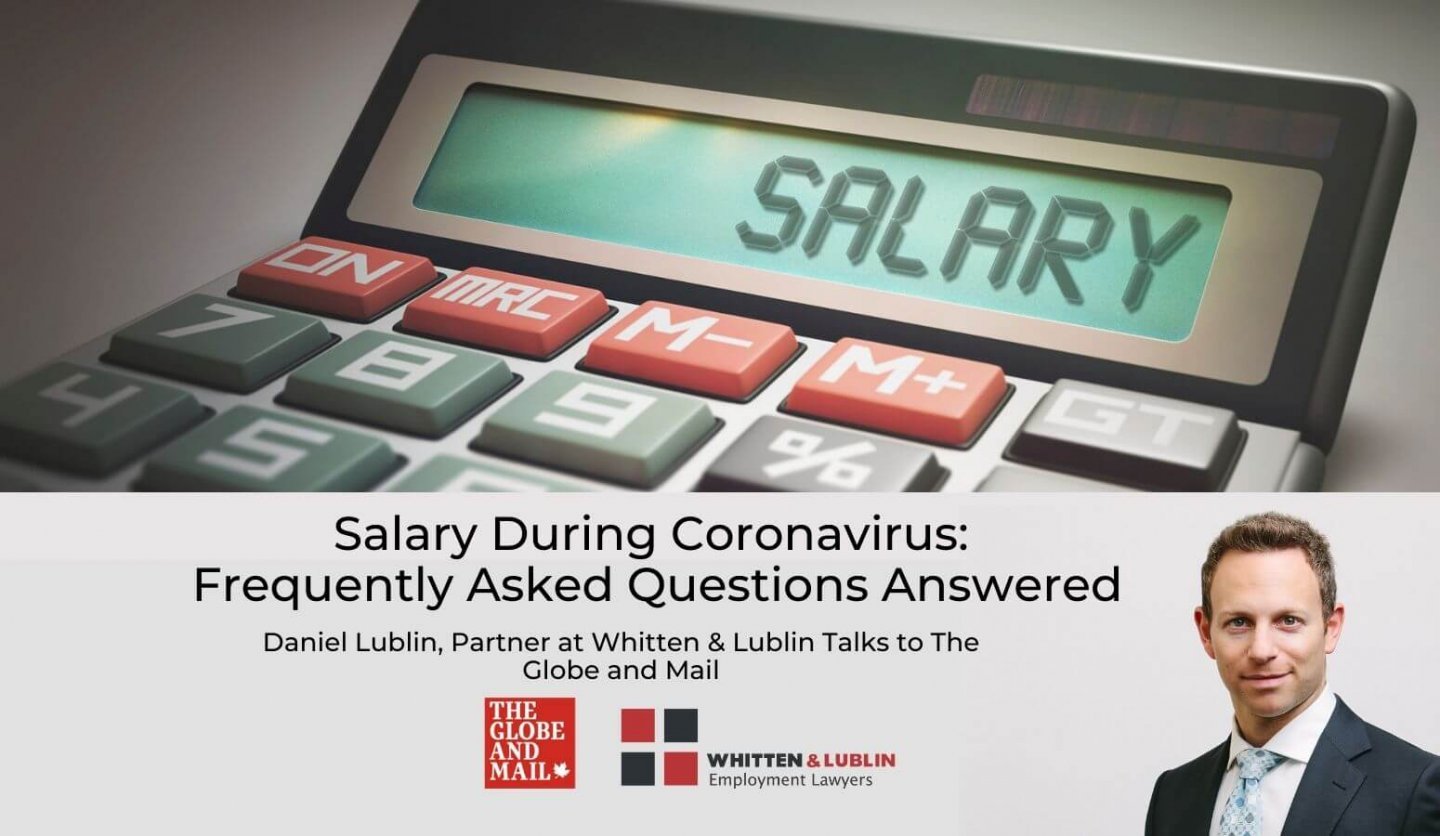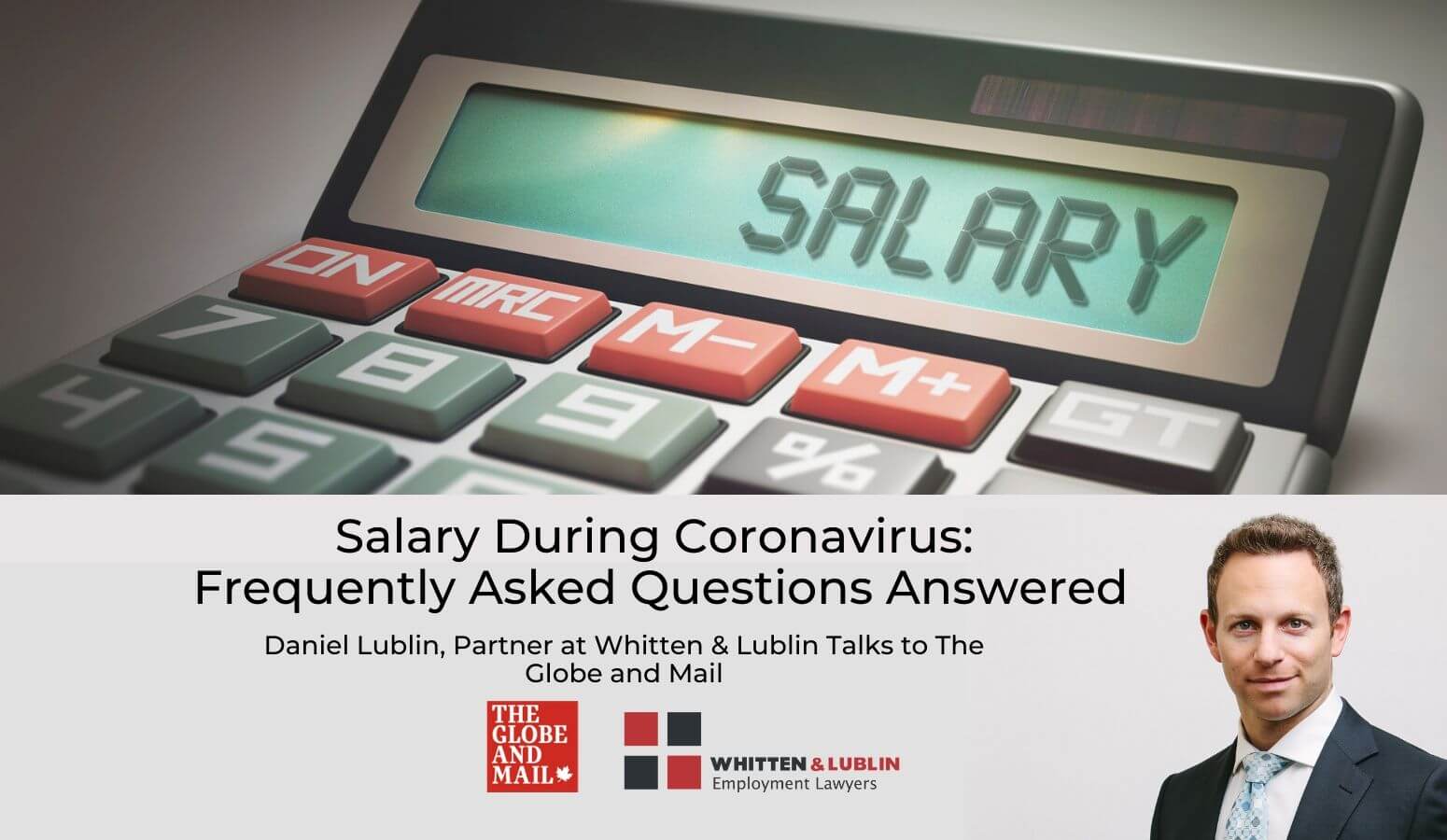 Salary During Coronavirus: Employment Questions Answered (Part I)
DANIEL LUBLIN, SPECIAL TO THE GLOBE AND MAIL
Daniel Lublin, a Partner and Employment Lawyer at Whitten & Lublin Employment and Labour Lawyers, talks to The Globe and Mail to answer some of the employment questions about salary during Coronavirus.
Can my employer require me to accept a reduced wage or fewer hours due to COVID-19?
The answer is no, as you cannot be forced to accept any significant and harmful changes to your employment, including your rate of pay, hours of work or the elimination of other perquisites you are normally entitled to (such as benefits, commissions, bonuses, allowances). If the changes are significant and harmful, it represents a constructive termination, which allows you to claim damages for the loss in pay, or severance while you look for another job. However, this may require you to actually leave the workplace and look for another job in order to pursue your claim, which seems far more difficult and risky to do now as a result of COVID-19. For this reason, many employees are choosing to accept temporary pay reductions if it means keeping their jobs as an alternative to these types of legal claims.
Furthermore, it remains to be seen how Canadian courts will handle situations where employers opted to reduce hours, pay, and salary during Coronavirus instead of terminating employees. I suspect that employers will be given additional leeway in these challenging times in order to maintain business operations rather than shutting down.
If my workplace tells me not to come into work because it is closing down for several weeks, will I be paid for the time off?
Your employer has no obligation to pay you when you are not working. But it is an implicit part of any employment contract that the employer must provide work to employees. Where your wages and work are suspended, even for a few weeks, it is technically a constructive dismissal or implied termination. Employees could claim termination pay or severance pay under employment-standards legislation or their employment contract. To avoid this liability, some employers are paying employees during this time off. Others aren't. Still, many employees may be reluctant to assert constructive dismissal claims right now as the uncertain job market may mean more risk and uncertainty for them. The unprecedented circumstances created by the COVID-19 outbreak may also implicitly introduce an employer's right to temporarily lay off employees.
This answer will become more complicated and may change if businesses are required to shut down due to a government order or told that it is no longer safe to have any employees continue to work.
If you've got more employment questions about salary during Coronavirus, please contact us. With years of experience in this ever-changing area of law, we at Whitten & Lublin are happy to provide insight and advice into your specific circumstances. If you're looking for employment lawyers and would like more information about what Whitten & Lublin can do for you, please contact us online or by phone at (416) 640-2667 today.
Share:
Share on facebook
Share on twitter
Share on linkedin