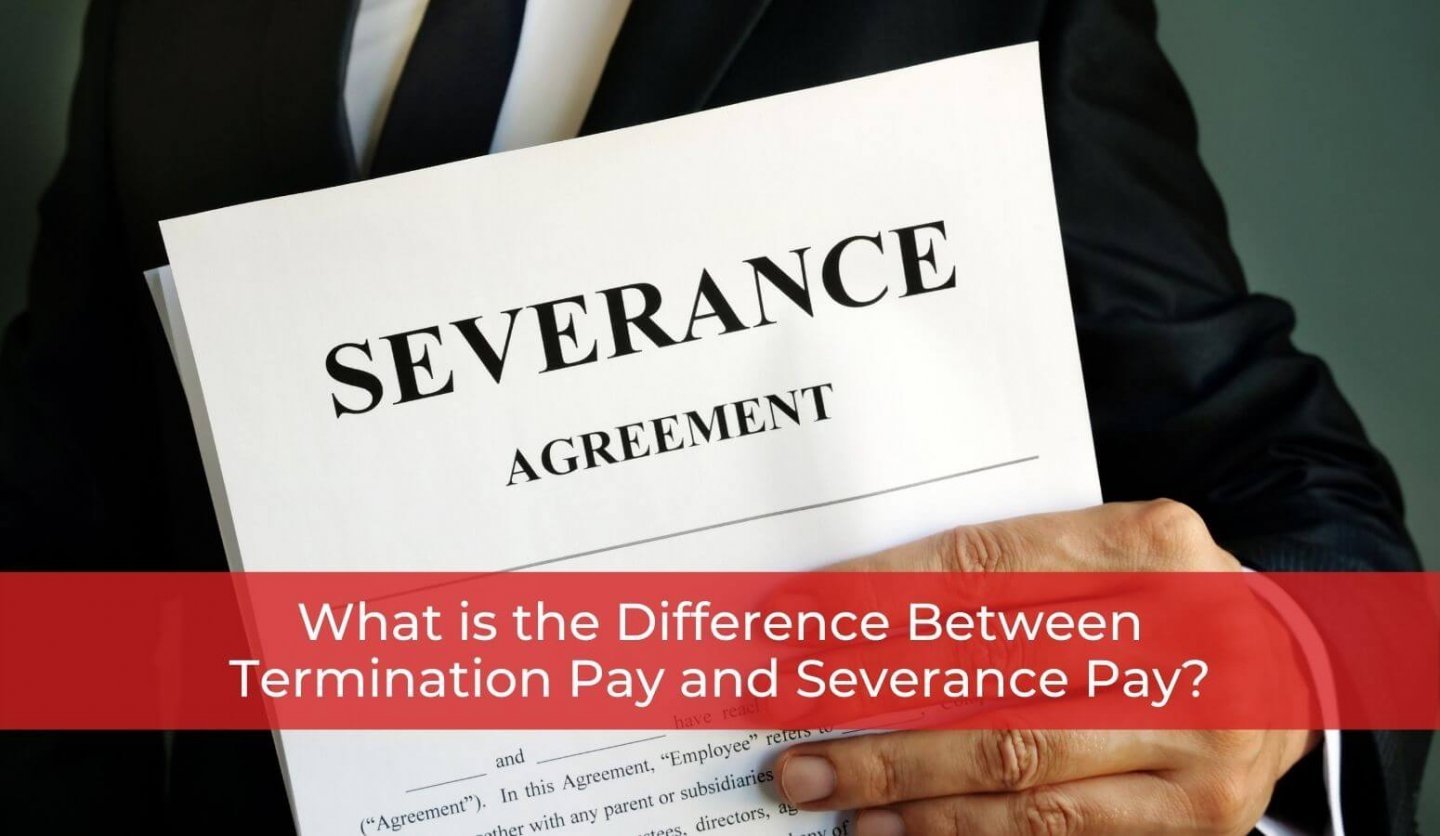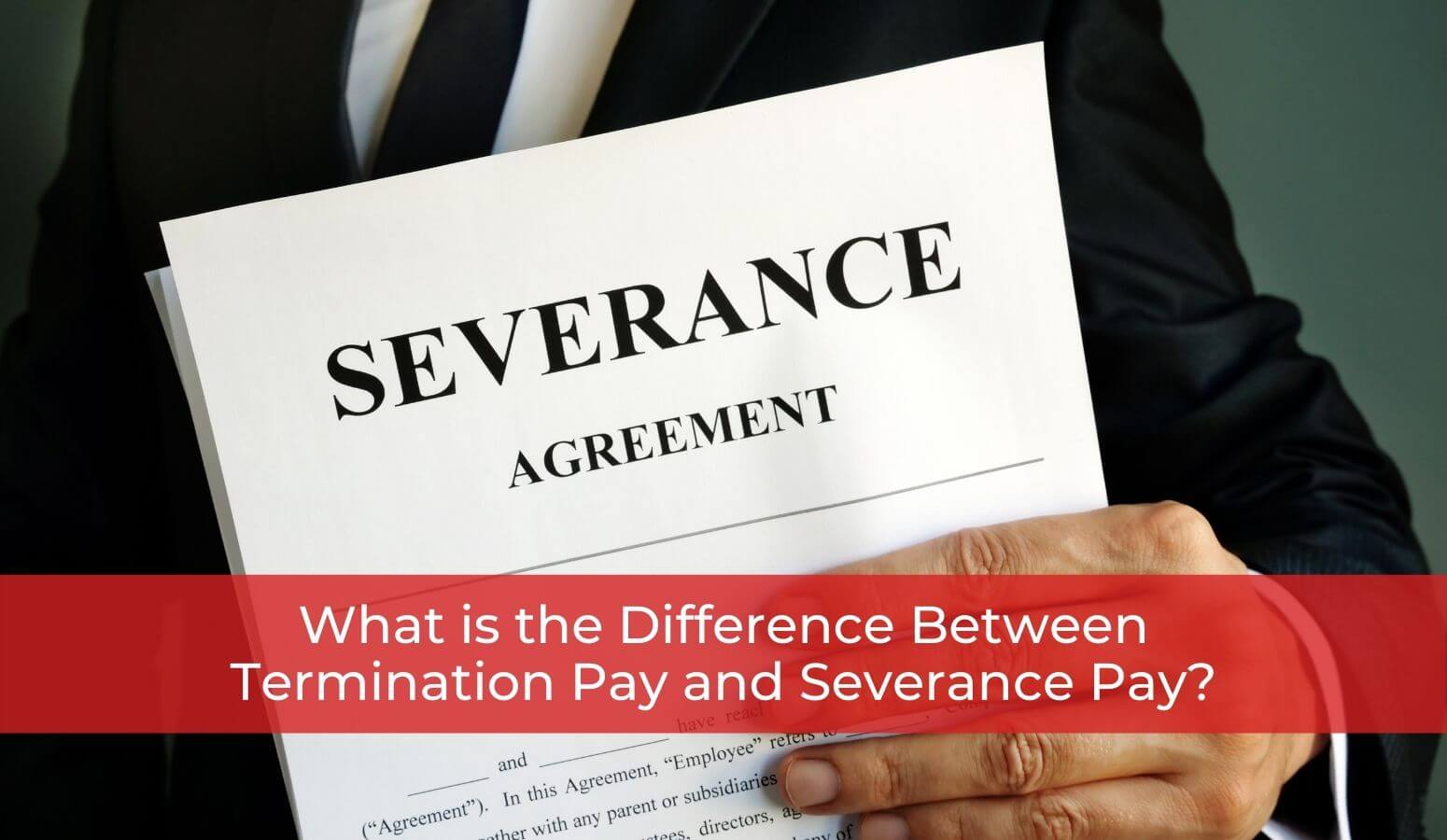 What is the Difference Between Termination Pay and Severance Pay?
As an employee, if you are terminated without cause, you are owed termination pay and maybe owed severance pay, pursuant to the Employment Standards Act, 2000 ("ESA"). Oftentimes, termination pay and severance pay are used interchangeably, however, there is a difference between termination pay and severance pay as they are two distinct terms.
Difference between termination pay and severance pay:
Termination Pay
Termination pay is set out in the ESA and provides an employee their minimum statutory payments when terminated without cause. An employee's minimum statutory payments or notice under the ESA varies depending on an employee's years of employment. The ESA guarantees employees the following notice periods based on years of employment:
| | |
| --- | --- |
| Years of Employment | Notice Required |
| Less than 3 months | No Notice Required |
| 3 months to less than 1 year | 1 week |
| 1 year to less than 3 years | 2 weeks |
| 3 years to less than 4 years | 3 weeks |
| 4 years to less than 5 years | 4 weeks |
| 5 years to less than 6 years | 5 weeks |
| 6 years to less than 7 years | 6 weeks |
| 7 years to less than 8 years | 7 weeks |
| 8 years or more | 8 weeks |
In many cases, an employee's employment contract governs how much notice an employee is entitled to receive upon termination without cause. If an employee's contract provides less than what the minimum standards are under the ESA, the employment contract is considered void. In cases like this, an employee would be entitled to common law notice, which permits a court to calculate an employee's notice period based on factors such as an employee's age, length of service, position, and availability of similar employment.
Severance Pay
Unlike termination pay, not all employees are entitled to severance pay. Pursuant to the ESA, severance pay is compensation paid to a qualified employee whose employment has been "severed".
An employee qualifies for severance pay if their employment has been severed and:
They have worked for the employer for 5 years or more; and,
Their employer has:

A payroll of at least $2.5 million; or
Severed the employment of 50 or more employees within a 6-month period
How to calculate severance pay?
Severance pay is also calculated differently than termination pay. To calculate severance pay, an employee must multiple their regular wages by the sum of the numbers of years of employment and number of completed months of employment. The maximum amount of severance an employee is entitled to is 26 weeks.
To better understand your entitlements and obligations under employment laws, we encourage employers and employees to seek legal advice. We at Whitten & Lublin are happy to provide insight and advice into your specific circumstances and guide you more on the difference between termination pay and severance pay. If you're looking for employment lawyers and would like more information about what Whitten & Lublin can do for you, please contact us online or by phone at (416) 640-2667 today.
Author: Krina Mahaisuria