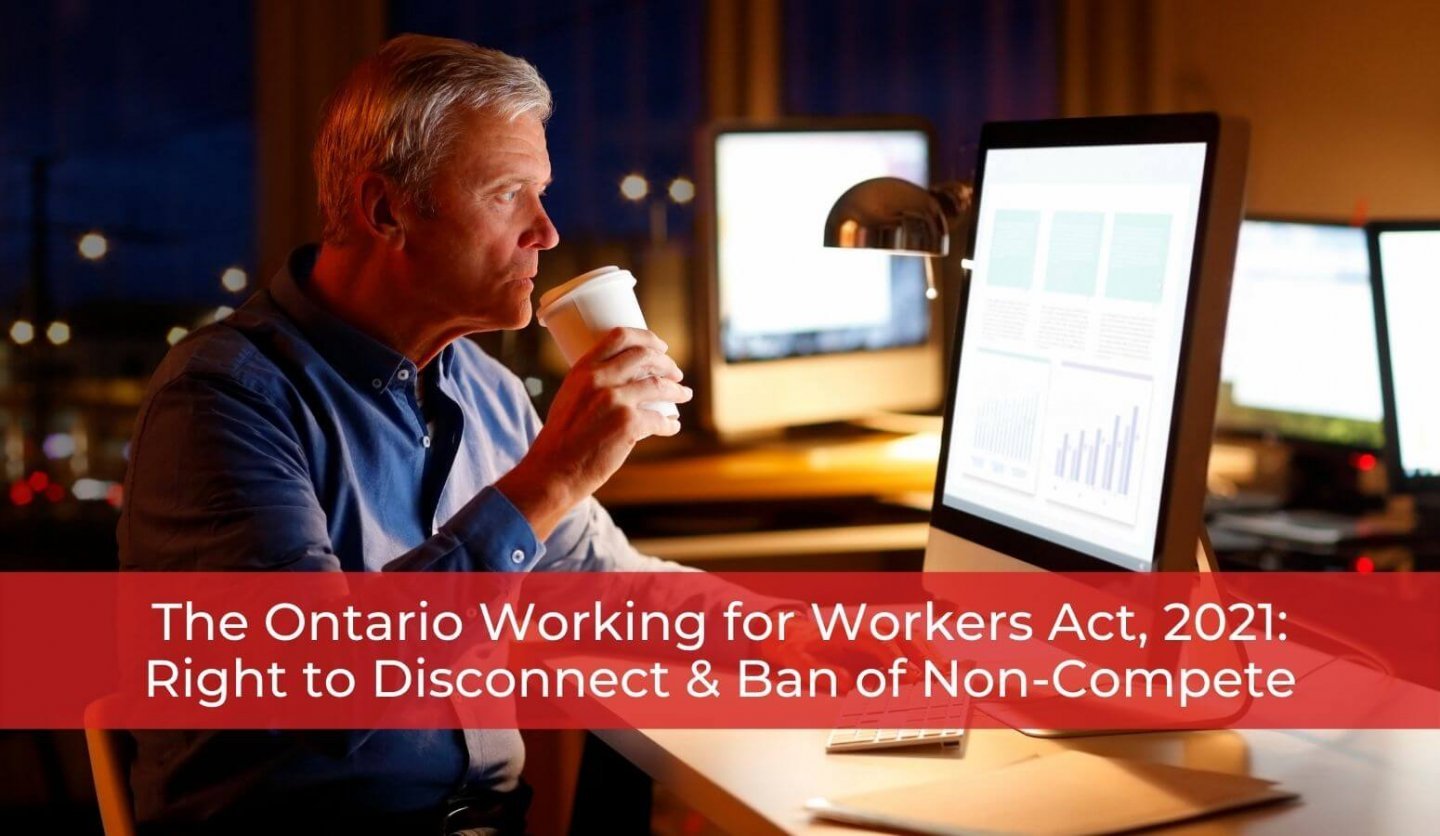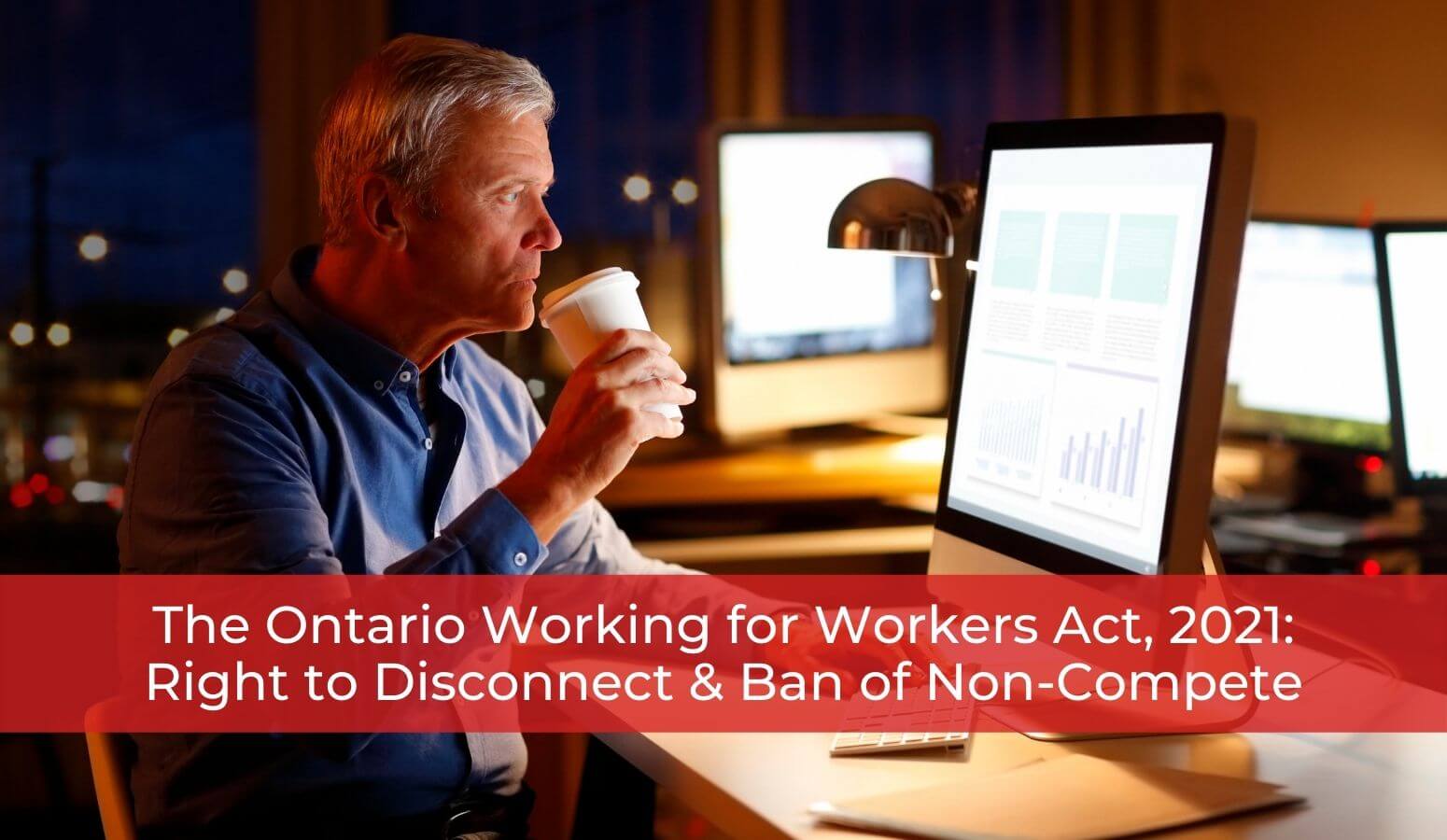 The Ontario Working for Workers Act, 2021: Right to Disconnect
The Ontario government has proposed legislation today – Working for Workers Act, 2021 that, if passed, would help workers adjust to the new workplace post-COVID. This proposed legislation would make Ontario the first Canadian jurisdiction to ban non-compete agreements and to establish the importance of disconnecting from work when off the clock, called the "right to disconnect". These changes are proposed at a time when 29% of people working in Ontario are working from home at least half of the time (the largest such cohort of any province in Canada), and when Ontario's capital, Toronto, is ranked 4th worldwide for tech talent (Coldwell Banker Richard Ellis Tech Talent Report).
Monte McNaughton, Minister of Labour, Training and Skills Development, introduced the proposed legislation of Working for Workers Act, 2021 as follows, "Our government is working for workers. To do so, we must act swiftly and decisively to put workers in the driver's seat and begin rebalancing the scales. Today's proposed legislation shows Ontario is ready to lead the way into the workplaces of tomorrow, and create the conditions that will make talented, innovative people want to work in our great province."
The proposed changes getting the most buzz after today's announcement are the mandates on disconnection from work policies and the banning of non-compete agreements.
The proposed legislation for right to disconnect would require employers with more than 25 employees to develop policies that allow those employees to disconnect from work once off the clock, allowing them to prioritize family and mental health during their time off. The suggestion is that these policies should, at a minimum, address appropriate email response time, and the use of out-of-office notifications.
The proposed legislation would also prohibit the use of non-compete agreements. These agreements restrict workers' mobility in the labour market and can bar workers from achieving wage increases and advancing their careers. The intent of the prohibition is to help Ontario attract top talent.
Finally, the legislation proposes many other changes, such as making it easier for regulated professions to accept internationally trained professionals, requiring recruitment, and temporary help agencies to be licensed in order to protect vulnerable workers, and demanding that businesses make their washroom facilities available to the delivery workers that serve them.
Most of all, the proposed legislation of Working for Workers Act, 2021 demonstrates the multilayered approach with which the Ontario government is aiming to support remote workers, along with continued efforts on the government's part to bolster public transportation, online healthcare options, and broadband internet access. The workplace going into 2022 is one in which workers will be engaging in non-traditional ways and supporting these workers in such a dynamic time will be paramount to Ontario's success and growth in the years to come.
To better understand the proposed legislation of Working for Workers Act, 2021 we encourage employees and employers to seek legal advice. We at Whitten & Lublin are happy to provide insight and advice into your specific circumstances. If you are looking for employment lawyers and would like more information about what Whitten & Lublin can do for you, please contact us online or by phone at (416) 640-2667 today.