David A. Whitten, Partner
David A. Whitten, Partner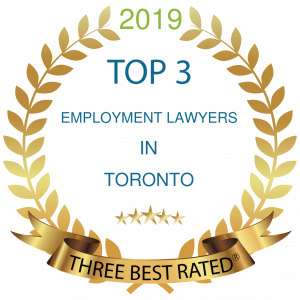 David A. Whitten is a highly sought after lawyer with expertise in employment law and is a senior partner at Whitten & Lublin, a Toronto-based employment law firm focussing on the strategic resolution of complex workplace issues and challenges for both employers and employees.
What sets David A. Whitten apart is his abiding belief in fairness. He holds that the most productive and successful work environments are those in which both the employer and employees are treated with respect. This ethical standard makes him a compelling advocate in negotiations or in court and an opponent to be reckoned with.
David also places great stock in flexibility and finding solutions through negotiated resolution. However, he is also a tenacious litigator. He has appeared before all levels of court in Ontario and a range of tribunals, including: The Ontario Labour Relations Board, Ontario Human Rights Tribunal, The Workplace Safety and Insurance Board and Workplace Safety and Insurance Appeals Tribunal.
For private and public sector employers, he has provided knowledgeable counsel on a broad range of issues, including: workplace safety and insurance, employment standards, human rights, hiring, terminations, involuntary and voluntary buyouts and common law obligations in Canada.
While David advises employees at all levels, he focusses on issues specific to the C-Suite. He is broadly experienced at crafting and negotiating executive employment and compensation agreements; severance packages; non-competition and non-solicitation contracts, as well as agreements related to post-employment obligations; incentive plans stock options; bonus compensation, and fiduciary obligations.
David also has a proven talent for addressing commonly unforeseen downside issues when drafting and negotiating executive employment agreements. He has earned a reputation for defending business leaders embroiled in conflicts with their Board of Directors or other executives, or who face leadership issues, or who are facing performance-related criticism from shareholders.
In 2013, Lexpert named David A. Whitten as a litigator to watch in its US Guide to Leading Cross-border Lawyers. Since 2015, David has been named by Lexpert as a repeatedly recommended leading practitioner. He also co-authored "HR Manager's Guide to Independent Contractors in the Workplace" which was published by Carswell.
David's expertise and straight talk are widely recognized in Toronto media circles. His viewpoint has been sought by The Toronto Star, The Globe and Mail and The National Post, and he has commentated on employment issues in interviews with CBC Radio One's, Here and Now, and News Talk 1010. He is also frequently asked to speak on employment issues by The Human Resources Professional Association, The Canadian Payroll Association and the Certified General Accountants Association of Canada. He is also the chair of the Human Resources Professionals Association (HRPA) Annual Law Conference.
David is also co-author of Carswell's authoritative text on independent contractors in the workplace, "HR Manager's Guide to Independent Contractors in the Workplace".
David graduated from The University of Toronto with a Bachelor of Arts Degree (political science). He completed his law degree at The University of Windsor in 2001 and was admitted to the Bar of Ontario in 2002. He completed the certificate program in Intensive Trial Advocacy offered through Osgoode Hall in 2005. Memberships include: The Advocates' Society, The Canadian Bar Association, The Royal Canadian Legion and The Cambridge Club.
Click on the links below to view articles or listen to shows featuring David A. Whitten's commentary:
The following are David's upcoming and most recent speaking engagements:
Engaging Experience: Opportunities for Older Persons in the Workforce – David Whitten has appeared as an expert before the Committee in Ottawa for The House of Commons' Standing Committee on Human Resources, Skills and Social Development and the Status of Persons with Disabilities on June 4, 2013 where he shared his views on its study, "Engaging Experience: Opportunities for Older Persons in the Workforce".
Co-panelist: Termination Strategies – The Canadian Payroll Association 30th Annual Conference and Trade Show, July 2-5, 2012, Ottawa Convention Centre
Social Networking Websites and Employee Conduct – 2012 Human Resources Professional Association (HRPA) Annual Conference – February 1-3, 2012
Advanced Terminations: How to Save Money in Challenging Times – 2011 HRPA Annual Conference. – February
Advanced Terminations: Getting it Right – 2010 CGA Controller's Congress – March
Terminations and Employment Law: Managing the Legal Risk – 2010 Canadian Payroll Association (CPA) Conference – July 2010
Employment and Independent Contractor: Where to draw the line – 2010 CPA Conference – July 2010
David A. Whitten can be reached at david@whittenlublin.com.
Why Client Choose Us?
Nationally recognized in 2018 as one of Canada's Top 10 Employment & Labour Law Firms, by Canadian Lawyer Magazine
Lawyers are recognized as "Leading Practitioners" by Lexpert, which is the largest annual survey of leading lawyers in Canada and an acknowledgment of excellence voted on by peers.
Far more positive Google reviews and recommendations from past clients than any other Employment and Labour Law Firm in Canada
"David Whitten kindly took over contract review and negotiations when I switched investment banks. David is truly a master of his craft and an expert. He is also incredibly reachable and responsive. As a fellow lawyer, I truly appreciate his expertise and professionalism and would fully recommend him to anyone else in a similar situation."
~~Ben A